'Destiny 2': "Last Call" teaser reveals trailer release date and time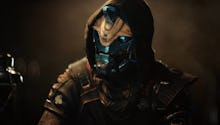 Since Thursday's leak of possible ad posters for Destiny 2, fans of the sci-fi online shooter have been on the edge of their seats for any new information on the upcoming sequel. The original Destiny game, released in late 2014, just received its last update, making players even more antsy for new content. 
Their prayers were answered Tuesday with a new teaser trailer for Destiny 2.
The teaser features Nathan Fillion's character, Cayde-6, as he recounts a fight he was in recently — very recently, actually. At the end of the teaser, it's revealed a worldwide trailer will be released at 1 p.m. Eastern on Thursday.
Destiny 2 "Last Call" teaser
Check out the teaser for the Destiny 2 trailer below:
More gaming news and updates
Check out the latest from Mic, including our deep dive into how female Overwatch players are dealing with online harassment, an article about a fan movement advocating for more same-sex romance options in Mass Effect, a cool making-of video for Legend of Zelda: Breath of the Wild and an article about what a Bechdel test for gaming might look like.