'RuPaul's Drag Race' Season 9 Predictions: Who will make it to the top 3?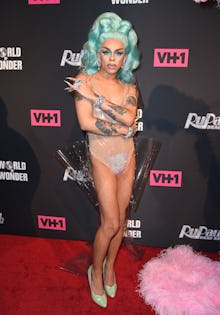 They stomped the runway to show off their hometown frocks and Lady Gaga-inspired looks, but the queens of RuPaul's Drag Race season nine have only just begun their journeys to stardom.
As we head into the second week of the competition — and the first elimination, since no one was sent home during the premiere — it's time to take stock as to who looks like a real threat to go all the way. Who's looking good to make it to the top three? Let's break down the top six, plus suss out where the remaining seven queens stand in the rankings.
Also-rans: They each have their charms, from quick wit to daring body, but Charlie Hides, Trinity Taylor, Kimora Blac and Jaymes Mansfield are looking dead on arrival at this point. 
On the cusp: Peppermint, Farrah Moan and Aja could break through in the next few weeks and become threats, but they sit outside the hottest part of the pack for now.
Possibilities
6. Alexis Michelle
Let's talk about season seven for a second. That season infamously had a major problem where the cast (a bunch of fashion queens) had to compete in a coterie of performance challenges for which they were uniquely unsuited. But one performer queen rose to the top because she excelled where the others failed: Ginger Minj. As a fellow theater queen, Alexis has the chance to be the Ginger of this season — it all just depends on the challenges.
5. Valentina
If this season — which, admittedly, has a lot of look queens — leans toward appearance challenges over performance, Valentina will excel. But considering she's only done drag for 10 months, we're worried about how she'll do in acting challenges, not to mention Snatch Game.
4. Eureka (O'Hara)
Let it be known that we will continue to remind you that Eureka isn't using her shared last name with Phi Phi O'Hara for the duration of Eureka's run on season nine. Luckily, it looks like she'll be on for a while. She turned a show on the runway in the premiere — now she needs to step up in the performance challenges as well. If she can do that, maybe Drag Race will finally crown a big girl winner. 
Safe bets
3. Shea Coulee
While we've consistently kept Shea in our top three since the cast announcement, the season premiere's judges felt differently. They did not put her in the top three despite her smart senses of both humor and style, opting for Eureka instead. This is probably thanks to her admittedly sloppy Lady Gaga runway look, which seemed to annoy Gaga quite a bit. Still, for her well-rounded skill set and knowledge of Drag Race herstory, she stays in our predicted top three.
2. Nina Bo'Nina Brown
Nina! Nina showed up simultaneously here and not here to play and kicked ass in the premiere. She's sold the judges already on her more unusual style of drag — padded for the gods, with bizarre makeup — and she should be able to keep them riveted as the season goes on. 
Unfortunately, the freakier queens are usually held to an unfair standard by the show. Think Milk from season six, or Max from season seven. While the more conventionally pretty girls can coast on delivering alternate takes on the same looks, too much weirdness without enough glamour will upset the judges. (If they can successfully deliver both, like Sharon Needles did, they're often primed to win.) Because of this, Nina doesn't feel like a sure thing for the top three yet — but we're keeping eyes on her.
Done deal
1. Sasha Velour
This queen is going all the way to the top. She's stunning, practically a chameleon in how she went from a more signature modern art look during the hometown runway to such a striking re-creation for the Gaga runway. Plus, Sasha can turn a performance, as fans of hers from off the show know. She was our pre-season pick for number one, and nothing so far has changed our minds. Sasha feels like a lock for the top, even at this early stage of the game.
The next episode of RuPaul's Drag Race airs Friday at 8 p.m. Eastern on VH1.
Mic has ongoing RuPaul's Drag Race coverage. Follow our RuPaul's Drag Race main hub.