Report: Shots fired near US Capitol after driver hits police car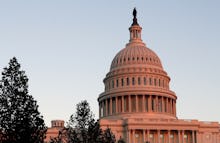 Police fired warning shots near the United States Capitol building on Wednesday after a driver reportedly hit a U.S. Capitol Police car on the Capitol complex and attempted to run over U.S. Capitol Police officers, according to multiple reports.
A spokeswoman for the Capitol Police says the incident began as a traffic stop and, "appears to be criminal in nature, with no nexus to terrorism," CBS News reported.
The incident happened near the Rayburn House Office Building, a building just outside the U.S. Capitol where House members have their offices. 
The suspect is now in custody, per multiple reports.
No injuries are reported, according to NBC News.
This is a breaking news story and will be updated.
March 29, 2017 10:30 a.m.: This article has been updated.