Could Brexit affect your money? 3 things you need to know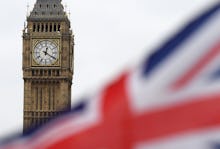 British Prime Minister Theresa May delivered a letter to European Council President Donald Tusk on Wednesday officially launching the United Kingdom's long-anticipated breakup with the European Union — known colloquially as Brexit. The BBC reports May's letter struck a tone of "compromise" but that many questions remain.
That's because Article 50, the EU's legal provision for exiting the union, is essentially symbolic, and simply triggers the start of a negotiation process that's expected to take two years.
The global stock market's reaction to Wednesday's action was relatively muted, since investors are still in wait-and-see mode. After all, Britain's ties to the E.U stretch back more than 40 years, so unravelling them will take time. 
But, while May's note had an optimistic tone, Tusk did not mince his words when he addressed parliament, saying, "This is about damage control... There is no reason to pretend that this is a happy day, neither in Brussels nor in London," according to a Wall Street Journal report.
Why is Tusk so concerned? And — importantly — what does the Brexit mean for the finances of people in the United States and around the world? Here are three major things to know. 
Brexit could get messy, and that could hurt your retirement savings
While the market is clearly not in free-fall, Barron's notes that people have known about the Brexit for seven months. By now, assets that could benefit from Brexit should already be a little more expensive, and assets likely to be hurt should be a little cheaper — this is what analysts mean when they say Brexit has been "priced in." 
That's why British pound, an indicator for the country's economy, has fallen in value by roughly 17% since the Brexit vote last June.
But the pound — and the rest of the British economy, for that matter — are certainly not out of the woods yet. 
For one, the U.K has a pretty big "tab" to settle up before it peaces out. All E.U. member states pay into a common pot to fund infrastructure and other projects. The E.U says it's owed $62.4 billion, according to CNN, but it's unclear how much of that Britain will be willing to pay. 
Another concern has to do with whether London will be able to remain Europe's de-facto financial capital, or whether companies will look elsewhere: The Wall Street Journal reports that J.P. Morgan is already looking at eight alternative cities, weighing everything from employment law to flight delays in its search for a post-Brexit home. A corporate exodus would be bad for Britain's economy and workers, and expensive for companies re-locating thousands of employees.
Why you should care? Your retirement account — whether an Individual Retirement Account or a workplace 401(k) — likely includes holdings in multinational corporations that could be affected by agitated global markets.
Now, whether these worst-case scenarios will actually happen is still unclear. A lot hinges on what arrangement May works out regarding workers and open borders. As the New Yorker's John Cassidy pointed out, negotiating a new trade deal might be necessary — and that might be tough, given May's isolationist base. 
Brexit fears might be overblown
Then again, there's a few reasons why the Brexit might not be as bad as people fear. British companies that export to the E.U are worried about trade, but they also benefit greatly from a cheaper pound. As it is, 70% of revenues for the largest 100 companies in the U.K come from overseas, the Financial Times reports, and those foreign earnings got a lot more valuable after Brexit. While the pound may have fallen, British stocks have actually come back up.
And while J.P Morgan may be making a move, not everyone thinks that leaving London is going to be so easy or attractive for the companies that do business there. Goldman Sachs is opening a new office in London's financial center, and several foreign investors have also looked at expanding in the U.K. Plenty of businesses may leave, but plenty will be waiting in the wings to replace them. 
Of course, if negotiations do go badly there's a lot of money at stake: The E.U. is the second largest economy in the world and the U.K is the fifth — giving politicians a strong incentive to try to make a deal.
Brexit presents a few opportunities to Americans, specifically
There are actually a few silver linings to the Brexit as far as Americans are concerned. For one, the Brexit could put downward pressure on mortgage rates and make it more affordable for Americans to buy a home. Even if interest rate hikes send mortgages prices up in the future, economists told Bankrate the rates would climb slower than they would without Brexit. 
In other words, it's as good a time as any to shop around for a mortgage if you're thinking about buying a home. Just make sure the math adds up, since homeownership can take several years before it starts to pay off. 
The Brexit has also long been thought to be good for opportunity for Americans to finally take that European vacation: The dollar's relative strength compared with the pound will make your money go farther, at least in the U.K, and declining business travel has already made hotel prices fall. 
Cheap trans-Atlantic flights are on the rise, too, thanks to competition from new carriers, not that we're trying to twist your arm. 
Sign up for The Payoff — your weekly crash course on how to live your best financial life. Additionally, for all your burning money questions, check out Mic's credit, savings, career, investing and health care hubs for more information — that pays off.