'Injustice 2' Mobile Hands-On: Touch controls and full story mode highlight mobile port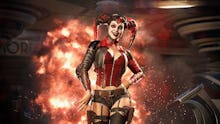 Fighting games grew up in arcades, housed inside refrigerator-sized cabinets, with large joysticks and six-button layouts creating complex movesets. Even though most fighting games are now adapted for console controllers, the pros still play with arcade-style fight sticks. In short, you don't really think of touchscreen-based phones as a natural home for the genre.
Injustice 2's upcoming mobile version is trying to carve out a space of its own on Android and iOS. Based on the short demo I played yesterday, it seems like it could potentially be a fun time while you're away from your PS4 or Xbox.
Injustice 2 Mobile Hands-On: Swipe and tap your way through single and multiplayer modes
Instead of drawing buttons on the screen or requiring you to use a third party mobile controller, Injustice 2's mobile version is built to be played entirely with a touchscreen. It's similar to the well-received mobile port of Injustice or the shockingly enjoyable WWE Immortals, if you played either of those. 
The controls are simple: Swipe left or right to dash in that direction and tap the screen to attack. When you're near the opponent, tap repeatedly to mash out a combo. Swipe and tap from a distance for projectile attacks. Each character also has three special attacks and a super move that are represented by icons on the screen. Tap the super move icon when your meter is full and it'll activate. No button combos required here.
The other major difference is how battles are structured. Injustice 2 on console is a one-on-one fighting game, whereas the mobile version is a three-on-three tag team battle setup similar to Marvel vs. Capcom. Characters fall into different classes, and the classes have a rock-paper-scissors relationship to each other. That means if the character you have out has a class advantage over the opponent, the game will tell you.
I only played one short match and was surprised at how well it works. It's certainly more simple than its big brother, but this is a fully-featured and entirely playable fighting game you can play on the bus. 
Injustice 2 Mobile Hands-On: A full story mode? For free?
Injustice 2 has a robust, cinematic story mode just like its predecessor. If that's more of a draw for you than competitive fighting, there's good news: The entire story mode will — eventually — make its way into Injustice 2 for free.
The mobile version is free-to-play like other mobile games, with characters and gear coming in card packs you can purchase. However, if you just want to see the entire story of the game and don't mind a simplified combat system, it will all be there for you some time after the game's launch in May. Chapters will be periodically added through updates rather than putting the entire story in at once, so you'll have to be willing to wait a while to get the whole story.
It also has a surplus of other modes to keep you busy. A ladder-style single player campaign — sans story — is available, as are multiplayer arena battles. You can send heroes you don't use in battle out on missions in teams of three that will take real time to complete, with some kind of reward guaranteed at the end of each mission. Send them out before bed or before your drive to work and you can get loot without actually playing the game.
NetherRealm isn't being specific about who will be missing at launch, but the mobile version of Injustice 2 will have most of the roster from the console version. Characters can, of course, be added later, but don't expect any mobile-exclusive fighters.
Based on the short demo I got of Injustice 2 for mobile, it seems like an impressively fleshed out phone and tablet experience. If you find yourself with more free time to play games on your commute than on the couch, there will likely be something to like here. 
More fighting game news and updates
While you wait for more Injustice 2 character reveals, read more fighting game news on Mic. Find out more about Super Smash Bros. for Switch, the Injustice 2 roster, the Tekken 7 console release date, what to expect from Marvel vs. Capcom: Infinite and the Evo 2017 lineup.