'Kingdom Hearts 3' Release Date: More information may be announced at D23 Expo... in 2018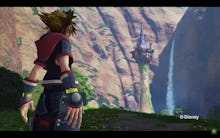 It really seems like Kingdom Hearts 3 apologists can't catch a break. Although Kingdom Hearts HD 1.5 + 2.5 ReMIX was just released, very little has been heard about the seemingly eternally developing final chapter. There was that spoken-word portion revealed in a Kingdom Hearts concert with some potential story spoilers and a single official screenshot revealing a transforming keyblade for series protagonist Sora. The series' 15th anniversary failed to bring in more news — or even a release date for the game — but Kingdom Hearts fans think something big is on the horizon.
Interested to know more? Of course you are. Read on below for the latest Kingdom Hearts 3 update.
Kingdom Hearts 3 release date: Japanese D23 Expo could reveal more info
According to Kingdom Hearts Insider, Disney hosts a bi-yearly event called the D23 Expo. The American one is coming up this summer from July 14 to July 16. However, Japan also hosts its own version of this event, which won't be until Feb. 10 to Feb. 12 of 2018. The 2018 date is important because it marks a number of anniversaries:
D23 Expo Japan 2018 promises to be even more spectacular, 2018 marks The Walt Disney Company's 95th anniversary and Mickey Mouse's screen debut's 90th anniversary. In Japan, it marks Tokyo Disney Resort's 35th, Disney Channel's 15th, and the Disney?JCB Card's 10th.
Because of these anniversaries, Kingdom Hearts Insider believes that we might be seeing another announcement related to Kingdom Hearts 3 during the proceedings. There's a precedent for this as well. At the 2013 Japan D23 Expo, series director Tetsuya Nomura, its producer Shinji Hashimoto and several of the game's Japanese voice actors answered fan-submitted questions while also announcing Kingdom Hearts HD 2.5 ReMix and showing off a trailer for Kingdom Hearts 3. 
Then in 2015, they showed off a number of clips from Kingdom Hearts HD 2.8 Final Chapter Prologue and Kingdom Hearts 3. So it's not out of the question that we might be seeing a similar announcement in 2018, especially with a lot of these anniversaries on the horizon.
The bad news is if this is true, it represents a pretty pyrrhic victory for fans of the series. Sure, there's now the potential and precedent that they may get a lot of information regarding Kingdom Hearts 3 at the Japanese D23 Expo, but that's not a guarantee. Additionally, even if Paul Candland had explicitly said there was going to be a big announcement about Kingdom Hearts 3, it's still almost a full year away. For a game that's been in development for over a decade, it seems like pretty cold comfort.
But if fans have waited 12 years, what's one more, right?
More gaming news and updates
Check out the latest from Mic, including our deep dive into how female Overwatch players are dealing with online harassment, a cool making-of video for Legend of Zelda: Breath of the Wild and an article about what a Bechdel test for gaming might look like.