Boat carrying refugees, migrants sinks in Mediterranean, nearly 150 people thought dead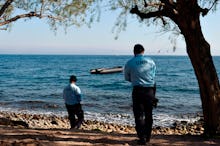 Yet more lives have been lost to the massive global refugee crisis.
Nearly 150 people are believed to have drowned after a boat carrying migrants and refugees that departed from Libya sank in the Mediterranean, the Guardian reported on Wednesday.
The only survivor of the wreck is believed to be a 16-year-old Gambian boy who was found clinging to a piece of ship debris and was rescued by a Spanish ship on Tuesday. He was brought to the Italian Coast Guard and taken to the Italian island of Lampedusa early Wednesday, according to the Guardian.
The rescued boy reportedly told authorities that there had been 146 other people on the boat with him, including five children and several pregnant women.
"He was very tired when they found him," an International Organization for Migration spokesperson told the Guardian. "He's resting now, so we'll have more details later." 
According to the IOM, 649 migrants have died in the Mediterranean so far in 2017; 1,149 migrants have died worldwide this year. 
This latest wreck is part of an ongoing crisis, as migrants and refugees from sub-Saharan Africa risk death to flee poverty and violence in their home countries.
In 2016, the BBC reported on a migrant boat from Libya that sank in the Mediterranean in 2015, killing up to 700 people in what was believed to be the "largest single loss of life" in the Mediterranean in years.