Does Tom Perez have a plan for the DNC? Here's what we know.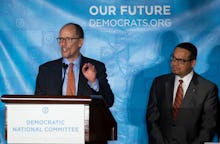 Tom Perez, the chairman of the Democratic National Committee, has asked all committee staffers to resign by April 15 in an apparent party overhaul after Republicans won the House, Senate and White House in the 2016 election. 
According to DNC spokesperson Xochitl Hinojosa, there is precedent for the resignation requests, and the process began before Perez was elected to the chair in February. 
"From the beginning, Tom has been adamant that we structure the DNC for future campaigns," Hinojosa told said. "Current and future DNC staff will be integral to that effort."
DNC employees anticipated Perez's request, CNN reports, and similar requests have been made in previous chair transitions. The DNC had already been operating with a smaller staff.
But Perez's house cleaning comes at a critical moment for the DNC. 
After a campaign beset by deep fractures between the party establishment and its more progressive wing, Democrats suffered brutal election defeats, including Hillary Clinton's stunning loss to Donald Trump.
Now, Perez faces the daunting task of rebuilding the Democratic party — and unifying the Democratic resistance to Trump.
Party rebuild starts at the top
The Democratic party has had three different leaders in the past year. 
Debbie Wasserman Schultz resigned in July after leaked emails showed DNC staffers were hostile to Vermont Sen. Bernie Sanders' candidacy, and interim chair Donna Brazile has been accused of giving Clinton a debate question ahead of time — something she has denied, writing she had shared "potential town hall topics with the Clinton campaign."
The tension between the Clinton-favoring establishment and Sanders-favoring progressives worked its way into the bloodstream of the election for a new party head in February. 
Progressives preferred Rep. Keith Ellison, who was backed by Sanders and Sen. Elizabeth Warren, over Perez, who was backed by Obama administration officials — including former Vice President Joe Biden — and was regarded as the more establishment choice. 
When Perez won the chair, he immediately made runner-up Ellison his deputy chair, and the two called for party unity.
But some who supported Ellison were frustrated by Perez's victory, believing it served to further alienate progressives within the party.
What's next for Perez and the Democrats?
As the DNC begins its search to fill key party positions, Perez has begun his chairmanship traveling the country in "active listening mode."
"What we're trying to do is culture change," Perez told NBC News. "We're repairing a plane at 20,000 feet. You can't land the plane, shut it down, and close it until further notice."
He and Ellison have met with top Democratic leaders, including Senate Minority Leader Chuck Schumer and Sanders.
"If he's happy, and if he's happy, then I'm happy," Schumer told Perez, referring to Ellison and Sanders.
During an appearance on MSNBC's Morning Joe Wednesday, Sanders said the party needs a "top-down overhaul" and to become a "grassroots party."
"Clearly, the Democratic Party needs a top-down overhaul," Sanders said. "And that top down overhaul means that instead of becoming dependent and being dependent on big money interests for campaign contributions, it has got to become a grassroots party."
Sanders' remarks echoed what Perez wrote when he announced his candidacy for Democratic chair in a Mic exclusive. 
"We ... need a leader who will strengthen our party from the ground up, engaging and empowering Democrats at every level in all 57 states and territories to fight for liberty, equality, justice and opportunity," Perez wrote.
Perez is currently working with a 30-member advisory committee — which includes elected officials, as well as activists like Deray McKesson of Black Lives Matter — to determine how the party will be structured going forward. 
Staffing and organizational changes are expected to be announced soon, NBC News reports.