Reese Witherspoon's 7 Best Roles: From 'Big Little Lies' to 'Legally Blonde'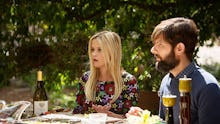 Reese Witherspoon is currently giving the performance of her career on Big Little Lies, and we don't want it to end. 
Witherspoon's earned rave reviews for her delicious performance as Madeline Martha Mackenzie on the limited HBO series. Alongside Nicole Kidman, Shailene Woodley and Laura Dern, Witherspoon is at her best. 
For some people, there was the McConaissance — the resurgence of Matthew McConaughey's career, which ended with him getting an Oscar; for others, there is currently the Witherspoon-reign that just won't let up. Witherspoon already has her Oscar and now she has her sights set on an Emmy.
Over the years, her resume has accumulated numerous career-defining performances, from Legally Blonde to Wild. Witherspoon does it all: comedy, drama, she can even sing. What more do you want from your favorite actress? These are Reese Witherspoon's seven best roles.  
1. Madeline Martha Mackenzie in Big Little Lies 
It's simple: Reese Witherspoon is doing career-best work in Big Little Lies. It's an understatement to say that we're completely obsessed with the series, and a lot of that is because of her stunning turn as Madeline. 
Madeline is a Type-A mother, the sort who holds up the lines at the school's drop off and calls the other parents when there is an issue. She's grating, excessive and exhausting. She's also hilarious, endearing, passionate and, thanks to Witherspoon's skill, so likable. You can't help but become completely enthralled whenever Witherspoon is on the screen, and we just want another 100 episodes of the show. 
2. Cheryl Strayed in Wild
If Witherspoon could have two Oscars, her other one would be her performance in Jean-Marc Vallee's Wild. She was nominated for her performance, but that was Julianne Moore's year. Alongside Gone Girl and Big Little Lies, Wild is one of the books Witherspoon has acquired over the years to produce. 
In Wild, Witherspoon takes the real-life role of Cheryl Strayed and gives a remarkable performance as a woman looking to renew her life. The film is more than just the typical "finding yourself" story, and part of that is thanks to Witherspoon's grounding performance. Strayed isn't entirely likable, but she is real, and by the end of the movie, you're sobbing with her in the woods. 
3. Tracy Flick in Election
It's the role that really started it all for Witherspoon. 
Tracy Flick is one of Witherspoon's many career-defining roles. Her comedic performance as Tracy is unmatched and proved that at a young age, she was beyond her years. Many have noted the parallels between Tracy and Madeline, and they're definitely there. Tracy is a determined young woman who makes sure you won't forget her name and we never will. 
4. June Carter Cash in Walk The Line
Our girl won an Oscar in 2006 for her performance as June Carter Cash in Walk The Line. While it may now seem like a simple performance in comparison to her heavier work in Big Little Lies and Wild, Witherspoon is sensational as the icon. Not only did she hold a note, but she and Joaquin Phoenix made for an outstanding duo as June and Johnny Cash. 
5. Elle Woods in Legally Blonde
For most, Elle Woods is her most defining role. The film is so popular it garnered a sequel and even a musical adaptation. In Legally Blonde, Witherspoon goes full comedienne for a pitch-perfect performance that solidified her as a movie star. The film has become a comedy classic, and Elle Woods has become a favorite to many. We're forever bending and snapping for Reese.
6. Annette Hargrove in Cruel Intentions
In the '90s, Witherspoon had a moment as the queen of campy thrillers. Fear and S.F.W. are fun watches, but Cruel Intentions is forever a classic. Alongside Sarah Michelle Gellar and ex-husband Ryan Phillippe, Witherspoon gives a memorable performance. As Annette, she goes toe-to-toe with Gellar's Kathryn Merteuil, and the character has since become a strong part of her legacy. 
7. Jill Green on Friends
We often forget that Witherspoon ruled the small screen long before her role in Big Little Lies. 
She flexed her sitcom muscles in a two-episode arc on Friends in 2000 as Rachel Green's incessant and needy sister, Jill. The episodes are some of the show's best, and her chemistry with Jennifer Aniston and David Schwimmer is dynamite. Witherspoon is a natural as Jill, making for one of the show's more memorable guest appearances. 
Mic has ongoing Reese Witherspoon coverage. Please follow our main Reese Witherspoon hub here.