Yesterday in Trump Russia News: Where in the world is Paul Manafort's money?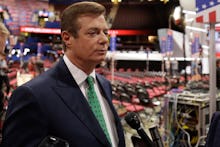 Here is the latest in the ongoing Trump-Russia scandal, where ever-mounting corruption allegations against President Donald Trump's former campaign manager Paul Manafort suggest his Paulie Walnuts pompadour is less of a fashion choice and more of a lifestyle. In other news, Rep. Devin Nunes (R-Calif.) just can't catch a break.  
Manafort's Millions
Over the past 24 hours or so, there have been two new allegations of sketchy purchases and potential money laundering.
The first allegation involves Manafort making several murky real estate purchases in New York City. According to WNYC, three different properties were paid for in cash by LLCs and then transferred to Manafort for the low, low price of $0. After that, Manafort borrowed tens of millions of dollars against the properties. Two of the properties are located in the SoHo and Carroll Gardens neighborhoods, while the third one is in — you guessed it — Trump Tower. That last purchase happened right around the time that Manafort is accused of having signed a $10-million-a-year contract with pro-Putin oligarch Oleg Deripaska — more on him later.
Manafort said the convoluted process by which the properties were purchased was all totally above water and common for people buying property in New York City. But the purchases and transfers do raise some interesting questions about stories that came out during the campaign.
Two of those property purchases were revealed by investigative reporters Ken Silverstein and Adam Weinstein in a story that broke last summer, but that story was largely overshadowed by news of Manafort's resignation. The report also included another New York apartment, as well as a Florida apartment purchased in a similar way, but that one Manafort did not borrow against. At around the same time, Manafort also made some Hollywood film investments.
Manafort's Millions 2: Manafort's money goes to Cyprus
But wait — there's more! NBC News reported that a major Cypriot bank is investigating Manafort for potential money laundering. Banks in Cyprus were once a notorious hub for Russian money laundering, and, according to NBC, Manafort is being investigated for his association with 15 different bank accounts with 10 different companies. 
At least one of those companies was involved with a multi-million dollar deal with Oleg Deripaska, the same Vladimir Putin-connected billionaire accused of paying Manafort millions — and there's still more on Oleg to come.
After the bank in Cyprus opened its investigations, Manafort closed all of his accounts.
Oleg the Oligarch strikes back
It turns out that Russian oligarch who appears to have paid Manafort all that money is not happy about these reports suggesting he paid Manafort all that money.
As the Washington Post pointed out on Tuesday, Oleg Deripaska took out a quarter-page ad in multiple newspapers to deny the allegations against him. 
"I want to resolutely deny this malicious assertion and lie," Deripaska wrote in the ad. "I have never made any commitments or contracts with the obligation or purpose to covertly promote or advance 'Putin's Government' interests anywhere in the world." He later demanded that "any and all further dissemination of these allegations, by the AP or any other media outlet, must cease immediately."
Nunes may face ethics probe
A new report from the Daily Beast said that House Intelligence Committee chairman and late night B&E expert Devin Nunes may be facing a House ethics investigation over his decision to disclose the existence of a FISA court warrant. An obscure Intelligence Committee rule automatically triggers an investigation into any allegation that a member has spilled classified information.
This likely won't bode well for the congressman, who already faces mounting calls from members of both parties to step down from the investigation.
Senate committee to interview dossier author
NBC News reported that the Senate Intelligence Committee is in talks to interview the author of the infamous Trump dossier, the aptly named former British spy Christopher Steele. At a press conference Wednesday on Capitol Hill, Senate Intelligence Chairman Richard Burr (R-N.C.) declined to say whether or not the international man of mystery was on their list of interviewees but confirmed that they were considering talking to Steele.
And more!
• Former GOP presidential candidate Carly Fiorina wants a special prosecutor to look into Trump-Russia ties.
• More Manafort: He took out loans from another Trump advisor's bank.
• Roger Stone: the movie! We can't wait.