Samsung Galaxy S8 vs. S7: How the two devices compare — specs, camera, design and more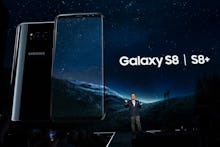 Samsung introduced the Galaxy S8 today, finally putting to rest all the rumors and speculation surrounding what features the device will and will not have. The South Korean tech giant's latest flagship smartphone comes with a design change and several new features. Here's how the S8 compares to its predecessor: the Galaxy S7, which was announced and released in 2016.
Samsung Galaxy S8 vs. S7: Models
The S8 comes in two models with varying screen sizes: the 5.8 inch Galaxy S8 and 6.2 inch Galaxy S8 Plus. In comparison, the S7 featured a 5.1 inch screen and did not have a "Plus" model. Instead, the S7 line has a Galaxy S7 Edge, which had a 5.5 inch screen. As such, the smallest S8 model is bigger than the largest S7 model.
Samsung Galaxy S8 vs. S7: Batteries
The Galaxy S8 comes equipped with a 3,000 mah battery while the larger Galaxy S8 Plus comes with a 3,500 mah. The larger device offers more battery capacity than the S7, which featured a 3000 mah battery.    
Samsung Galaxy S8 vs. S7: Camera
Not much has changed with the rear-facing camera from the S7 to the S8. The S8 has the same 12-megapixel sensor with OIS that the S7 offered. But the front-facing camera has improved, as it has an 8-megapixel sensor and comes with autofocus.
Samsung Galaxy S8 vs. S7: Design
The S8 comes with several design changes. It has an "infinity display" that gives the handset a bezel-less curved edge and an "end-to-end" screen. Samsung did away with the home button, which resulted in shifting the fingerprint sensor to the back of the device near the rear camera. There's also a new button on the side of the device dedicated to Samsung's new virtual assistant, Bixby.       
Samsung Galaxy S8 vs. S7: About Bixby
The biggest reveal is Samsung's smart voice assistant Bixby, which will give Apple's Siri a run for its money. "You can use voice, text or touch to say what you need since it understands all three," says Samsung. At launch, Bixby will be fluent in English, Spanish, Korean and Chinese.
Samsung Galaxy S8 vs. S7: Iris scanning technology
Samsung briefly introduced iris scanning technology with the Galaxy Note 7. The feature is back with the S8. "The patterns in your irises are unique to you and are virtually impossible to replicate, meaning iris authentication is one of the safest ways to keep your phone locked and the contents private," says Samsung on its website.
Samsung Galaxy S8 vs. S7: Face recognition
S8 users can use a password, use the fingerprint scanner, use the iris scanning technology or use an entirely new method: facial recognition. Holding up the device as if taking a selfie will let users unlock their device.