'Death Note' Netflix Cast: A breakdown of the live-action series' main characters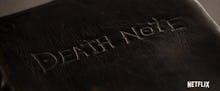 Soon after the first trailer dropped for the upcoming Netflix original Death Note, the streaming service found itself embroiled in a brand new whitewashing controversy. Fans of the original animated version decried the choice to cast Nat Wolff, a white man, in the traditionally Japanese role of Light Yagami, with some going so far as to boycott the production outright. But despite its negative reception, many are still thrilled about the casting choices and are excited to see the live-action adaptation of the hit Japanese manga.
Here's a breakdown of Death Note's main characters and the actors who will be playing their roles.
Natt Wolff as Light Turner
Natt Wolff, known for his roles as Quentin in Paper Towns and Isaac in The Fault in our Stars, will star as Death Note's main protagonist Light Turner, originally known as Light Yagami in the Japanese manga version.
Light's world suddenly changes after he finds the Death Note — a notebook possessing the power to kill anyone whose name is written within its pages. An intellectual, Light imagines a world without crime and plans to use the Death Note to carry out good. However, he quickly descends into his role of Kira and becomes callous, displaying an increasing disregard for the lives of others.
Lakeith Stanfield as L
Lakeith Stanfield, who recently played Andrew Logan King in Get Out and who has a recurring role as Darius in Atlanta, is set to star as Death Note's solitary and quirky detective L. L suspects Light is the same person as Kira, and dedicates himself to apprehending the dangerous wielder of the Death Note.
Willem Defoe as the voice of Ryuk
Willem Dafoe has used his distinct voice in movies like Finding Nemo, Finding Dory and Fantastic Mr. Fox, and now the famed actor will be bringing his vocal talents to Death Note as the voice of Ryuk.
Ryuk is the bored Shinigami who drops the Death Note to Earth, thus setting into motion Light's journey towards becoming Kira. 
Paul Nakauchi as Watari
Paul Nakauchi, a longtime voice actor in myriad video games like Overwatch, Diablo 3 and World of Warcraft, is set to star as Death Note's Watari — a famous inventor and proficient marksman with extensive training in espionage. 
Watari is also L's personal assistant, and the only one who can contact the reclusive detective directly.
Margaret Qualley as Mia Sutton
Margaret Qualley, known for her roles as Jill Garvey in The Leftovers and Amelia Kuttner in The Nice Guys, plays Mia Sutton, originally known as Misa Amane in the Japanese manga version.
Mia is a bubbly and popular girl who makes her living by singing, acting and modeling. She becomes completely devoted to Light after he kills her parents' murderer. 
Mic has ongoing Netflix coverage. Please follow our main Netflix hub here.