The 'It' trailer projector moment has Stephen King fans scared out of their minds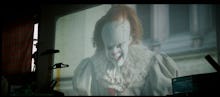 The first trailer for the movie adaptation of Stephen King's It is here — for the sole purpose of scaring the shit out of you. That's the good news: The film, which is the first of two planned installments based on the novel, looks like a terrifying delight. The same can't be said of the TV miniseries from 1990, which hasn't aged well outside of Tim Curry's performance as Pennywise the Clown, the book's eponymous monster. 
Fans get a few brief glimpses of the new Pennywise in It, played by Bill Skårsgard. Additionally, there's some shots from the book's iconic opening chapter, in which little Georgie Denbrough plays with his paper boat in the rain, only for it to fall down one of the town drains. What happens to Georgie after he meets Pennywise isn't for the faint of heart. 
However, the trailer's real treat is the extended look at a projector scene, in which The Losers Club — the kids that face off against the clown, including Georgie's older brother, Bill — are going through some schematics of their hometown before the projector begins to act up and depict images of what is presumably Bill's family. His mother, hair covering her face, slowly morphs into Pennywise. 
Yeah, it's horrifying — and Twitter was impressed. 
It's a twist on a scene from the book and 1990 miniseries, when the kids are going through an old photo album. Admittedly, it was a bit campy when adapted to the screen the first time — though once again, it looks like Curry was having the time of his life. 
Of course, a scary trailer doesn't always translate to a good horror film, but the new It got a very important thumbs up from King himself, who has apparently already seen the film. In a tweet earlier in March, King praised the first part of the two-part adaptation. 
It arrives in theaters Sept. 8. You can check out the terrifying teaser trailer below:  
Mic has ongoing movies coverage. Please follow our main movies hub here.