'Legion' season 1 stumbles to the finish line by trying to be a traditional superhero show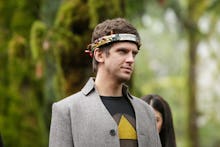 After traversing different planes of reality, executing extravagant dance numbers and paying homage to silent films, FX's spectacularly strange Marvel series Legion wrapped up its first season Wednesday night. The show — which has been not just "prestige TV," but a mind-screw from the get-go — has been praised by critics for its trippy and inventive visual storytelling buoyed by terrific performances (none better than Aubrey Plaza's sinister, shapeshifting Shadow King). As the Hollywood Reporter's Tim Goodman argued after Legion's sixth episode, it beat Showtime's Twin Peaks revival to the punch and became the must-watch, weird as hell show of 2017.
(Editor's note: Spoilers ahead for the first season of Legion.)
But then, as it wound down its first season, Legion became markedly conventional. The penultimate episode of the season devoted much of its time to exposition-laden dialogue for Plaza's Shadow King, and David Haller began to separate fantasy from reality with his own memories. Granted, the Shadow King reveal happened between two characters having a discussion inside a giant ice cube in the astral plane, while David talked about his memories with the physical embodiment of his "rational mind" (actor Dan Stevens, talking to himself in his natural British accent). But make no mistake: This was an aggressive info dump. 
The season one finale was similarly disappointing. The final faceoff between David and a Shadow King-possessed Kerry involved the two characters running into each other with their vaguely described mutant powers giving them distinct auras. It's not unlike Heroes' sparkly season one finale. This unsatisfying showdown speaks to the biggest problem with Legion's final stretch: It showed hints at becoming a traditional superhero series. 
Much of Legion's first season was a stark departure from what you may associate with its source material. It's technically an X-Men series — and by extension, a Marvel property. But it shared little DNA with other superhero shows on TV, be it the gritty realism of Netflix and Marvel's TV universe or the unabashed campiness of the CW, which just aired a musical episode featuring the Flash and Supergirl. Legion was, at times, psychological horror wrought with nightmare-inducing imagery.
In other words, it existed on its own terms. Legion's showrunner Noah Hawley said as much, noting that the show exists in a "parallel universe" from other X-Men characters, with no current plans to incorporate David into the rest of X-Men's expansive universe. 
But Legion's final two episodes ostensibly opened the door for some X-Men world-building. The show doesn't skirt around the fact that Professor X is likely David's father, which is true to the comics. David revisiting his childhood even features Professor X's iconic wheelchair, while Stevens imitated Sir Patrick Stewart's accent to impersonate what he imagines his father sounds like (and sure, yes, it was quite enjoyable). 
It's a fun reference in passing — and, of course, nobody would object to a brief Stewart cameo on Legion down the road — but similar X-Men callbacks would be a detriment to future seasons. The best moments of Legion's first season had little to do with the X-Men, lest you count David's withering psychological state among the canon. Legion's biggest strength is its intimacy with David and the faux realities that he's introduced to. That's why the Shadow King, a big comic book villain in his own right, worked so well: It was literally a parasite burrowed inside his mind. 
Other than David himself, the Shadow King was the closest Legion could get to a truly personal antagonist — and he may step into that role soon enough. David's immense mutant powers, coupled with his troubled psyche, makes him an inadvertent villain in the comics. If Legion really is a "deconstruction of a villain," David will eventually become the bad guy in his own story. 
That's one potential avenue for Legion's second season: To explore what would happen if David lost grip of his powers. Just look at what the Shadow King was able do to Division 3's headquarters when he gained full control of David in episode five. It would also be a nice change of pace from the Shadow King — despite Plaza's brilliance in the role — who's still lurking on the show, but is currently on the run within its new host, Oliver. 
Still, on the whole, the first season of Legion did an excellent job subverting the superhero genre. What's more, even if the series veers toward more traditional superhero territory in season two and beyond, it will still be an outstanding piece of television — much of this credit goes to the auteurist vision of showrunner Noah Hawley. 
However, if Legion continues to meet the standard set its earlier episodes, with a heavy emphasis on abstract storytelling and hypnotic visuals, it won't just steal some of Twin Peaks' 2017 thunder. It could be the Twin Peaks for a new generation, in the guise of a superhero story.  
Legion's first season is currently available to stream on FX's website. 
Mic has ongoing superhero coverage. Follow our main superhero hub here.