North Carolina legislators may have reached deal to repeal transgender bathroom bill HB2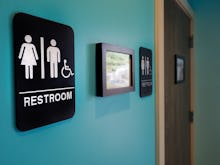 At a press conference late Wednesday night, North Carolina Republican lawmakers said they reached a deal to repeal HB2, Reuters reports. 
The law, which requires people in the state to use public restrooms that match their gender assigned at birth rather than their gender identity, became instantly controversial once it passed in March 2016. 
North Carolina state senate leader Phil Berger released details of the bill on his website. Along with repealing HB2, the compromise would ban cities in North Carolina from passing any equal rights ordinances, like the one Charlotte, North Carolina, passed just prior to the state passing HB2, until the year 2020. It also barred cities from passing any ordinances related to public accommodations in bathrooms, leaving the issue up to state regulation.
"Compromise requires give and take from all sides, and we are pleased this proposal fully protects bathroom safety and privacy," Berger and North Carolina House Speaker Tim Moore said in a statement on Berger's site. 
The repeal comes three months after North Carolina's congress failed to repeal the bill, even though they had promised to repeal it if the city of Charlotte, North Carolina, repealed its equal rights ordinance protecting transgender citizens. State legislators did not follow through on the reported repeal-for-repeal plan. 
In a statement, Human Rights Campaign president Chad Griffin slammed the deal. 
"The rumored HB2 'deal' does nothing more than double-down on discrimination and would ensure North Carolina remains the worst state in the nation for LGBTQ people," Griffin said in a statement. "Sellouts cave under pressure. Leaders fight for what's right."
He further slammed the bill on Twitter. 
"If passed this proposal will box LGBTQ people out of local nondiscrimination protections in a state without statewide protections. No deal," Griffin wrote on Twitter. "Any ally of the LGBTQ community cannot support this new version of HB2."
After news of the repeal broke, Chase Strangio, staff attorney at the American Civil Liberties Union's LGBT and HIV project, called the repeal a "farce" on his Twitter account. 
"This so-called repeal of HB2 continues to situate trans people & trans bodies as threats," Strangio wrote. "Don't be caught up in the propaganda."
Jean company Levi Strauss and Co. also tweeted Wednesday night urging North Carolina legislators to reject this "backroom" deal.
The bill badly damaged North Carolina's economy. PayPal rethought plans to expand operations in the state. The NCAA basketball league looked elsewhere for places to host championship games. Bruce Springsteen canceled a concert in the state, which prompted the Daily Beast to state that North Carolina would never again host a celebrity.
Only 18 days after the bill passed, the Center for American Progress estimated that it already cost the state about $86.3 million.
The U.S. Department of Justice had an ongoing civil rights case against North Carolina because of the law. Sixty-eight companies — including Capital One, Dropbox, IBM and IKEA, to name a few — joined an amicus brief written by LGBTQ advocacy group the Human Rights Campaign in support of the U.S. Department of Justice's case. The companies stated in the brief that the law is "already damaging their ability to recruit and retain a diverse workforce and is imposing a substantial disincentive to investment and commerce in the state, directly impacting their bottom line."
Mar. 30, 2017, 12:47 a.m.: This story has been updated.