George W. Bush reportedly said "That was some weird shit" after Trump was inaugurated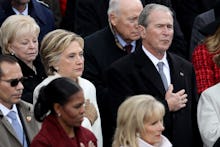 Inauguration Day 2017 was sad and sweaty and anxious for many onlookers, former presidents not exempted. 
According to a report from New York magazine's Yashar Ali, George W. Bush was well aware of the occasion's acutely bizarre nature, and did not keep his thoughts to himself. After new President Donald Trump wrapped up his aggressively populist speech, our 43rd president is said to have remarked:
"That was some weird shit."
Bush's communications person would not comment on the utterance, but according to Ali, three people heard him say it. So now he wins his second viral moment of Inauguration Day, the first being his high-profile battle with a poncho, which many Twitter users found amusing and relatable. Same sentiment applies here: