Hawaii judge indefinitely blocks Donald Trump's travel ban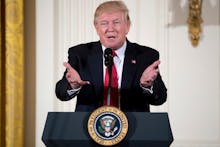 A federal judge in Hawaii indefinitely halted President Donald Trump's travel ban Wednesday, in yet another win for opponents of the ban, CNN reported.
Initially, district court Judge Derrick Watson issued a temporary restraining order on enforcing Trump's travel ban, using the administration's own words to determine that the ban was meant to discriminate against Muslims, a violation of the Constitution's establishment clause.
On Wednesday, Watson extended the temporary restraining order into a more permanent preliminary injunction — a move requested by the plaintiffs in the case.
That means the ban on enforcing Trump's order will continue until the full lawsuit against the ban is resolved — or until a higher court possibly decides to overturn Watson's decision. 
"The court will not crawl into a corner, pull the shutters closed and pretend it has not seen what it has," Watson wrote in his decision, according to BuzzFeed.
The Department of Justice has already appealed a Maryland judge's block of Trump's travel ban to the 4th Circuit Court of Appeals — a more conservative court than the 9th Circuit that encompasses Hawaii.