Nintendo Switch restock "behind-the-scenes" video shows exactly why there's no damn supply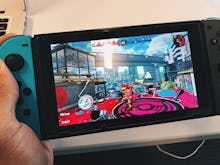 Nintendo Switch stock issues have driven some potential buyers of the console up the wall. If GameStop isn't selling their goods in bundles only, Best Buy is selling out of their Nintendo Switch restock within seconds. Supply issues aren't unique to the Nintendo Switch either: the NES Classic Edition, Nintendo's console launch before this one, had trouble staying available as well. With all these Nintendo Switch restock problems, you'd think the company hated making money.
It turns out this might be the case! In leaked behind-the-scenes footage, the company gives us a glimpse into the breakneck speeds at which they're packing Nintendo Switch boxes to send to retailers.
Nintendo Switch restock update: A look into Mario and Luigi's factory
If this is the speed at which Nintendo is preparing Switch consoles to send out to retailers, we all may as well just quit gaming.
The short video is clearly a joke by Nintendo, with the real message tucked in the text of the tweet: As far as Switch shipments go, "check with your local retailers over the next few days for more information." This could mean that Best Buy's Switch restock on March 29 was just an early look at things to come for Switch purchasers. 
If Nintendo knows what's good for them, they'll have Mario and Luigi pack up those boxes much faster. The Japanese gaming company sold half a million units faster than the Playstation 4 in their home country. Interestingly, the PS4 took twice as long to reach that same number when it launched.
Nintendo Switch restock: Best ways to check in on supply
With Mario and Luigi packing Switch stock at breakneck speeds, you're likely wondering how best to check in with stores near you on supply. We've already covered how you can get alerts sent to you when new stock is available. But to reiterate, make sure you're checking sites like BrickSeek and iStockNow online regularly. You'll also want to call stores in your area like Target, Walmart and more because they don't always announce when they have stock. Who knows, you may even have more luck in person than you would online.
Check out more Nintendo Switch news and coverage
Looking for more Nintendo Switch news? Check out how blind gamers are using the Nintendo Switch. Nintendo's left Joy-Con issue turns out to be a hardware problem — find out how to solve it. Find out how to buy a console amidst the recent restock. Learn why the Switch cartridges taste so bad. Check out our comparison photos sizing up the Switch to the Wii U GamePad (part one and part two), or find out how to make use of ethernet without the dock and the best way to get alerts when new stock arrives.