Melania Trump Petition: Here's how much more it costs for the first family to live in NYC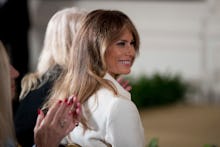 A popular Change.org petition has a message for first lady Melania Trump: Move to the White House, or pay for your New York City security expenses yourself.
"The U.S. taxpayer is paying an exorbitant amount of money to protect the first lady in Trump Tower, located in New York City," the petition reads. "As to help relieve the national debt, this expense yields no positive results for the nation and should be cut from being funded."
The first lady has continued to live in Trump Tower — not the White House with President Donald Trump — while their 11-year-old son, Barron, finishes the school year.
That's come with a hefty price tag.
It reportedly costs the New York Police Department between $127,000 and $146,000 a day to protect the first lady and her son, and the Secret Service last month requested an additional $60 million in funding to protect the president and his family.
The petition has been signed more than 250,000 times and will be delivered to Sens. Bernie Sanders and Elizabeth Warren.
Trump has also come under criticism for the costs associated with his frequent weekend trips to his Mar-a-Lago resort in Florida. White House press secretary Sean Spicer brushed those concerns off Wednesday, saying the president isn't worried about pushback from taxpayers.
"No, he feels great," Spicer said.