'Ghost in the Shell' Reviews: What are critics saying about the live-action remake?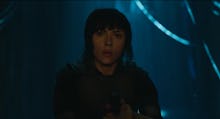 After months of controversy, the Ghost in the Shell live-action remake hits movie theaters on Friday. 
The film, directed by Rupert Sanders and starring Scarlett Johansson as Major, is a remake of the 1995 anime film of the same name. Sanders' Ghost In The Shell follows the same plot as the original film. Set in the not-so-distant future, the film centers on Major, an enhanced cyborg who is on a mission to stop the world's most threatening criminals. 
Despite the whitewashing controversy, the movie sits at 70% fresh on Rotten Tomatoes and is receiving mostly positive reviews from critics.
The good
Critics are noting that the film is basically a "copy" of the 1995 original animated film from director Mamoru Oshii. Many are celebrating it for being visually arresting, as well as Johansson's strong performance.
Stephen Witty, Newark-Star Ledger:
It's a gorgeous copy of an original, but a safe copy all the same — a careful, calculated 'Bland Runner.' But every so often, like the glitches in a computer program, something real, or surreal, breaks through.
Ben Croll, the Wrap:
A here-and-now valentine to what design wizardry Hollywood can pull off in 2017. At the same time, it does so in service of a tired tale full of repurposed visual tricks, storytelling clichés and big-studio concessions.
Guy Lodge, Variety:
Led by a resolute Scarlett Johansson, Rupert Sanders' pulse-quickening, formally stunning live-action take on the manga classic both honors and streamlines its source.
Chris Stuckmann, ChrisStuckmann.com:
'Ghost in the Shell' is a stunning, faithful adaptation of Mamoru Oshii's classic film, while admittedly not as psychologically appealing.
Terri Schwartz, IGN:
The story stumbles in the third act and doesn't fully bring its talking points to a satisfying conclusion, but Ghost in the Shell's successes outshadow its problems.
The bad
Not everyone is okay with the remake. The negative reviews of the film note that while it is visually stunning, it lacks soul. 
Jordan Mintzer, the Hollywood Reporter:
A heavily computer-generated enterprise with more body than brains, more visuals than ideas, as if the original movie's hard drive had been wiped clean of all that was dark, poetic and mystifying.
Rosie Fletcher, Digital Spy:
Utterly, unquestionably gorgeous to look at, but at heart a fairly bog-standard futuristic action movie, 'GITS' is all shell with barely a ghost of anything inside.
David Jenkins, Little White Lies:
No amount of whispered, meaningful monologue can hoodwink the viewer into believing that this movie is anything more than a shapely, empty vessel with delusions of existential sci-fi grandeur.
You can see for yourself when Ghost In The Shell hits theaters on Friday, March 31. 
Mic has ongoing movies coverage. Please follow our main movies hub here.