'RuPaul's Drag Race' Season 9 Recap: Which queen returned — and who got sent home?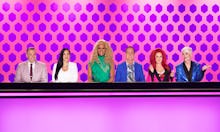 After a somewhat stilted premiere that served more as a tribute to guest judge Lady Gaga than an introduction to the queens, RuPaul's Drag Race season nine truly took off during Friday's second installment. There was a fun challenge, standout moments for several queens — and, yes, the resolution to the "14th queen" twist introduced at the end of the premiere.
As was rumored, season eight queen Cynthia Lee Fontaine returned to the competition. But any apathy over what turned out to be a somewhat underwhelming twist is quickly cured by what a delight it is to have Cynthia back. Yes, she runs calling her ass her "cucu" into the ground about two minutes after showing up. Sure, her high-energy antics can grow exhausting. But she's also a plucky cancer survivor who deserves a real shot at this competition, and seems thrilled to be getting it.
Though the other queens are initially cautious of her — girls like Peppermint and Kimora Blac come off particularly rude in their confessionals — that coldness dissolves into warmth upon hearing Cynthia's story. It's never outright stated that Cynthia's battle with cancer is the reason she's given a second chance, but the editing heavily alludes to that, and it's powerful to hear the season eight Miss Congeniality talk about the fight it took to bounce back.
While Cynthia gets the bulk of the story this episode, she's hardly the only queen to stand out. Who won the challenge — and more importantly, who was sent home?
The challenge opens with a bizarre cameo appearance from Lisa Kudrow, who RuPaul says he just ran into "on the lot" and who wanted to come on set. She's there for all of three minutes to rattle off catchphrases from The Comeback, then leaves. Why not have her judge a mini-challenge, Ru? It is adorable, however, to see the girls stan for Kudrow so hard.
It's possible there just wasn't time for a mini-challenge with Kudrow; with just an hour-long episode and a meaty main challenge, there's little room left over. The challenge splits the queens into two teams, then asks them to perform cheerleading routines. It's a remarkably new challenge for the show — the past three seasons, this challenge spot has been occupied by a lip-sync extravaganza. So it's nice to see the show stretching its creative wings a bit.
These kinds of team challenges always lead to uncomfortable team-picking segments, and indeed, the way previous challenge winner Nina Bo'Nina Brown says she loves an "underdog" when she picks Jaymes Mansfield is probably harsher than she intended. Between these two episodes and Saturday's Untucked, Jaymes' edit has been just brutal. She's constantly off her mark during rehearsal with her team and fails to impress during the challenge.
Ru confesses during the runway critique that he loved Jaymes' audition tape, but isn't seeing the charm and comedy Jaymes clearly had there on the Drag Race stage. She doesn't perform the worst this week, but it's worth sending her home considering simply how unsuited she seems for Drag Race. Season seven queen Trixie Mattel has said that being good at drag doesn't mean being good at Drag Race, and this seems like Jaymes' problem.
It's even more of a problem because she's working on a team, and thus her difficulty translating her style of drag to this stage is a detriment to her team. Points for Alexis Michelle, who calmly but strongly calls Jaymes out for not impressing during rehearsal. The way she asks team captain Nina for the floor is also adorable — call it Rubert's Rules of Order.
The other queen to get an unfavorable look during team selection is Valentina, who gets chosen last because she's only been doing drag for 10 months. A queen getting picked last is usually a good sign she's going to win, however — just rewatch season seven and see how often eventual champion Violet Chachki got chosen last for teams.
Other queens poke fun at Valentina, including mocking her prayers to a candle depicting Our Lady of Guadalupe. It's interesting: I can't remember another time in Drag Race herstory that a contestant's religion was discussed, besides RuPaul's joking references to season two winner Tyra Sanchez's Christianity. The other girls, especially Aja and Trinity Taylor, respond like they're Real Housewives of Beverly Hills' Kyle Richards and she's Carlton Gebbia.
Obviously, there's a lot ingrained into what's happening here. Christianity and conservatism are often linked and coded together, and drag is very much both a reaction to and rejection of conservatism. So it makes sense that the other queens see Valentina's faith as so bizarre. It'll be interesting to see if the show explores this tension further, or if it'll serve as a one-off joke.
The other workroom moments are more serious, like Peppermint talking about being head cheerleader in high school but getting beaten up by basketball players. These kinds of moments were fewer and farther between during All Stars season two, which relied on the veteran queens' history with each other versus digging further into their individual pasts. It helps with connecting to these girls on a more personal level.
It follows, then, that it's a huge rush to see Valentina dominate the main challenge, then just obliterate the runway. For a fashion queen, she's proving herself versatile early, performing to her fullest throughout the cheer challenge, never breaking character. The runway is perhaps even more impressive, taking the White Party theme to its natural conclusion by dressing up as a bride. 
However, like head judge Michelle Visage, I must knock her for not wearing a white shoe. The details matter, and that might not be a lesson she's learned in her 10 months in drag. Still, she shoots to the top of the rankings based on her performance this week.
Runway and challenge results otherwise were mixed, but overall strong. Shea Coulee stands out in the challenge for her athleticism and energy, while Trinity one-ups her rival Eureka, who took the lead last episode, by delivering two totally different characters in the challenge and runway.
The challenge itself is fun, but it's admittedly hard to tell who's particularly bad. All of the judges' critiques of the bottom three queens — Jaymes, Kimora Blac and Charlie Hides — come down to that they weren't memorable, not that they were off somehow. That said, the challenge choice was made totally worth it by the gag of having a mini-Lady Gaga appear in the right corner of judge Ross Matthews' introduction.
Charlie disappoints in the challenge, but her runway keeps her safe, while Kimora's runway seemingly damns her. Despite her 10 years of experience, guest judge and B-52s member Cindy Wilson knocks her for being a "newbie" for mixing and matching too many elements in her runway presentation. It is a weirdly colorful outfit for a White Party, as RuPaul's pun — which I deeply missed during All Stars — perfectly sums up.
"In white, you got read for being too blue," Ru intones. It's a delightful way of breaking bad news: Kimora is in the bottom two with Jaymes, and they must lip-sync for their lives to "Love Shack" by the B-52s.
Here's a fun fact: This lip sync is the only time the queens have lip-synced to a non-drag performer's male vocals. The only other men, both drag queens, were Sylvester (season eight's "You Make Me Feel (Mighty Real)") and RuPaul himself. Of course, the majority of the vocals were from the B-52's female members, but Jaymes and Kimora still lip-sync a few of the male members' lines. It's a funny bit of trivia.
The lip sync itself is evenly matched, with each queen giving a different style. Neither is stellar, but this isn't a disaster on the level of season eight's "I Will Survive" or season five's "Oops! I Did It Again," both of which resulted in double eliminations. Given my druthers, I'd probably save Jaymes, but there's no truly clear choice here.
Sadly, this does indeed mark the end of the road for Jaymes Mansfield. She's a sweetheart, but this wasn't her competition — and increasingly, it seems like she knew it.
The next episode of RuPaul's Drag Race airs Friday at 8 p.m. ET on VH1.
Mic has ongoing RuPaul's Drag Race coverage. Follow our RuPaul's Drag Race main hub.