Who is Beto O'Rourke? Meet the Texas Democrat running for Senate who could beat Ted Cruz.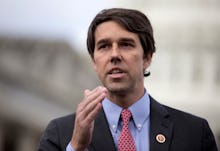 Rep. Beto O'Rourke — the El Paso, Texas, Democrat who captured the national attention this month for his "bipartisan road trip" to Washington with Republican Rep. Will Hurd — will challenge Ted Cruz for his Senate seat in 2018, according to reports. 
O'Rourke — who had previously said "it's vey likely" he'll run — teased a "big announcement" in an email to supporters last week and is expected to declare his candidacy in El Paso on Friday.
Rep. Joaquin Castro — a fellow Texas Democrat — is also considering taking on Cruz, the far-right former presidential candidate who has held the seat since 2013.
O'Rourke doesn't yet have much name recognition. But the third term congressman has spent the beginning of 2017 making contacts throughout his home state, apparently in preparation for his run.
"I'm very moved to do it," O'Rourke said.
Who is Beto O'Rourke?
He pulled off an upset to win his House seat
O'Rourke defeated incumbent Silvestre Reyes in the Texas District 16 Democratic primary in 2012 before winning his House seat over Republican Barbara Carrasco in the general.
He is currently in his third term.
He was previously a member of the El Paso City Council.
He is an "unabashed liberal"
O'Rourke currently serves on the Armed Services and Veterans' Affairs committees, and has devoted much of his tenure in Congress thus far working on veterans' issues.
He is also seen as a advocate for immigrants, condemning the Trump administration's "Draconian immigration policies" he believes will go down as "one of the more shameful chapters in American history," he told NPR in February.
"We want to make this chapter as short as possible and remind people that our best traditions involve accepting asylees, refugees, those who are fleeing terror and violence like the young immigrants fleeing Central America," O'Rourke said.
He has also called for congressional reform, including term limits, and for an end to the War on Drugs.
"A Cruz-O'Rourke race would offer a stark ideological contrast," the Houston Chronicle notes. "A staunch conservative and self-described Constitutionalist versus an unabashed liberal who supports recreational marijuana use."
Still, according to the Chronicle, O'Rourke is well-liked by both Democrats and Republicans.
That was perhaps best on display when a late-season snowstorm delayed O'Rourke's flight from Texas to Washington and canceled his Republican colleague Will Hurd's flight altogether. The two drove the 1,600 mile trip together, livestreaming the whole ordeal in what many celebrated as a rare display of bipartisanship in the Trump age.
He was once in a punk band called Foss
One fan described the band as "phat" during their appearance on a Texas late night snow in what is arguably the most 1990s performance ever. The band also included Marz Volta and At the Drive-In frontman Cedric Bixler-Zavala, who won a Grammy for Best Hard Rock performance with the Marz Volta in 2009.
"It was a great time in my life," O'Rourke said of his music career. "I got to tour the country with good friends, meet amazing people and had a really good time."