Depression up 18% since 2005, is now leading cause of ill health and disability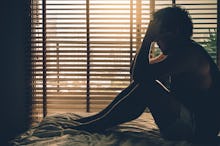 Depression is now the most common cause of ill health and disability, the World Health Organization announced in a press release Thursday. Between 2005 and 2015, the number of people suffering from the illness rose by over 18%, with the current estimate of people with depression at upwards of 300 million worldwide.
"These new figures are a wake-up call for all countries to rethink their approaches to mental health and to treat it with the urgency that it deserves," Dr. Margaret Chan, WHO Director-General, said in the release.
Despite mental health being a major public health issue, on average, a meager 3% of government health budgets is spent on treating it. And even in high-income countries, where there are comparatively greater investments in mental health, about half of those with depression don't seek the help they need. 
In the United States alone, 20% of adults suffer from some kind of mental health condition, yet over half do not get treated for it. More than 40 million people nationwide "are dealing with a mental health concern," according to Mental Health America.
Treatment rates in the U.S. are even worse for minorities with mental illness, with 20% of black adults, 10% of Latinos and approximately 5% of Asians not seeking help or treatment. 
Two of the leading reasons for people not seeking help are embarrassment and stigma, according to an analysis of 22 studies on treatment access. Not only can negative perceptions of mental illness result in self-stigmatization and social isolation, but they pose "a challenge for public health prevention efforts," according to a report by the Centers for Disease Control and Prevention.
Indeed, in 1999, Surgeon General David Satcher declared, "one of the single greatest barriers to addressing the issues of mental health is stigma."
In an attempt to thwart this problem, WHO launched the "Depression: let's talk" campaign in October, which helps people with the illness access treatment. The campaign aims to shatter the continuing stigma around mental health and provide information to the general public.
Depression is the WHO's theme for 2017's World Health Day, which falls on April 7. The organization's latest statistics are part of an initiative to invigorate the campaign, which will be a major feature of WHO's participation in World Health Day.
Three out of four people who have major depression are not properly treated, the WHO said in another press release Thursday.
"[I]t is not enough to simply scale up services — it is equally important to raise awareness, build understanding and reduce stigma," Dr. Zsuzsanna Jakab, WHO Regional Director for Europe, said in the release.