What Melania Trump wore her 10th week as first lady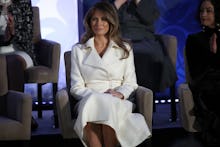 We are so pleased to announce that after 10 days of Melania Trump just straight-up not being seen in public, with her last sighting on March 17, the first lady has come back to us, emerging from wherever she's been on Tuesday for a reception at the White House for senators and their spouses. It was a rare occasion too, because this marked the first time since late February where Trump and her husband made a joint appearance. (Hm, we wonder why.) 
So yes, the first lady is back! She's back from wherever she insists on hiding for days on end all the time! Is it New York City? Is it Washington, D.C.? Who knows?! Who cares?! 
Everything is fine! We're doing great! Nothing to worry about here! Welcome back, girl! 
This is everything Trump wore this week (her tenth) as first lady: 
Tuesday, March 28: A black dress for a rare joint appearance with her husband 
For a reception for Senators and their spouses in the East Room of the White House, the first lady emerged in a black dress with a nipped waist designed by Roland Mouret, which reportedly goes for nearly $1,500. 
With this addition of Mouret, Trump has made her affection for French designers absolutely clear, notably dressing in Hervé Pierre, Givenchy and Dior these past few weeks. 
Wednesday, March 29: A white coat and Louboutins while honoring women 
Who loves a coat dress more than Melania Trump? No one. 
On Wednesday, for the International Women of Courage Awards at the State Department, Trump wore a white coat dress designed by the Row (yes, that's Mary-Kate and Ashley Olsen's label) and paired it with python Christian Louboutin stilettos, also now a signature of hers. 
And as far as coat dresses go, she just recently wore one in bright red, so we can consider that a signature of hers now too. 
This is actually Trump's second time wearing the Olsen twins' brand, wearing white pants from the Row to the Trump Super Bowl party back in February. 
As we observed even before Donald Trump became president, Melania is a uniform dresser, favoring just a few colors, including beige and white and red and black. And if she's wearing shoes, then they're almost always Louboutins. 
At this point, you can almost guess what she'll wear next week, if she does indeed appear again. Maybe a white dress with a nipped-in waist this time. Or maybe a black coat, rather than a white one. 
You can see previous recaps of what Melania Trump wore here.