'Heroes of the Storm' 2.0: Open beta, release date and all the big changes in the update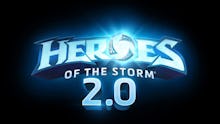 After an announcement of significant updates to Heroes of the Storm, Blizzard's multiplayer online battle arena game — or MOBA, for short — is basically getting a brand new game. The developers are releasing 15 different update announcements on specific days ending on May 4. 
Although mysterious, these future announcements include exciting topics such as multiple new heroes, a new cinematic, a new event and more. Here's what you need to know about Heroes of the Storm 2.0.
Heroes of the Storm 2.0: Important changes to the reward system
One of the most notable changes to Heroes of the Storm is to the leveling and reward system, which seems to be modeled after the game's sister franchise, Overwatch. In the current live version of Heroes of the Storm, there is a level cap of 20, which will change under the new system. 
Like Overwatch, it will be a leveling- and loot-based system. Each level, you'll get an "Epic Chest" with a randomized variety of loot for your heroes. In addition, each level segment will have its own portrait badge. 
Heroes of the Storm 2.0: Open beta and release date
As of March 29, Heroes of the Storm 2.0 is currently available to play in its open beta. According to IGN, the full release should be near the end of April. If it's not the release itself, we can probably expect more info about the specifics of launch at the "Launch Event," which is schedule for April 18th. 
Keep on the lookout for more Heroes of the Storm news, as this next month should be filled with many awesome announcements.
More gaming news and updates
Check out the latest from Mic, including our deep dive into how female Overwatch players are dealing with online harassment, an article about a fan movement advocating for more same-sex romance options in Mass Effect, a cool making-of video for Legend of Zelda: Breath of the Wild and an article about what a Bechdel test for gaming might look like.