The Rock and Vin Diesel feud is still going strong during 'Fate of the Furious' press tour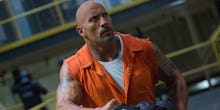 It appears there is a fast and furious feud happening between Dwayne "The Rock" Johnson and Vin Diesel. 
The co-stars of the upcoming The Fate of the Furious have been at odds for months. The feud is rumored to have started on the set of the most recent The Fast and the Furious sequel, and now recent reports show it hasn't slowed down. 
According to the Hollywood Reporter, the two are being kept apart during the press tour for the newest Fast and Furious film. The cast appeared at CinemaCon on Wednesday to present footage of the highly anticipated sequel, but one person was missing.
Most of the cast was present at the event — except for Johnson. He was at the event on Monday to introduce Sony's upcoming Jumanji reboot, and on Tuesday, where he presented Baywatch. 
On Wednesday, however, it appears Johnson was back on the set of his HBO show Ballers. THR quotes an insider that said, "They're keeping them separated as much as possible." 
Let's go back to the beginning. Back to when this all started on the set of The Fate of the Furious, which is set for release on Friday, April 14. 
In a cryptic post last August, Johnson took to Instagram to vent about one of his cast members showing up late to work. He praised all of the women working on the film — Charlize Theron, Michelle Rodriguez, Helen Mirren — but took a shot at some of his male co-stars. 
"My female co-stars are always amazing and I love 'em. My male co-stars however are a different story," he started his post. "Some conduct themselves as stand-up men and true professionals, while others don't. The ones that don't are too chickenshit to do anything about it anyway. Candy asses. When you watch this movie next April and it seems like I'm not acting in some of these scenes and my blood is legit boiling — you're right," he explained. 
The shade, the shade, the shade of it all. 
While Johnson never revealed who he was hinting at in the caption, in the days following the post, sources revealed it was about Diesel. Rumors of more divalike behavior on set followed. Diesel never really commented on the matter, except in an Instagram video where he teased he would reveal everything. He has yet to follow up on that promise. 
We will have to see if the on-set tension adds any more furiousness to The Fate of the Furious when it hits theaters on April 14.
Mic has ongoing movies coverage. Please follow our main movies hub here.