Make this Manischewitz Whiskey Sour for Passover — or whenever, really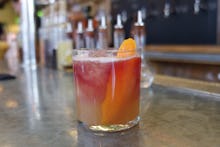 Manischewitz gets a bad rap. The sweet, syrupy dark purple wine may be the first sip of alcohol some 13-year-olds have as they enter adulthood, while others may make it to true drinking age before they're fooled into sipping the not-at-all fine wine that graces Jewish holiday tables across the Diaspora. 
While some may have acquired a taste for the traditional wine, others may despise its cough syrup-like qualities. But if you do have a bottle of Manischewitz lying around, why not enhance the booze by making a legitimately tasty Manischewitz cocktail?
Oliver Zabar, son of New York grocery legend Eli Zabar, created a Manischewitz cocktail for his New York craft beer bar, Eli's Night Shift, so you can enjoy that bottle of kosher wine down to the last half ounce. 
"This is a play on the traditional flavors you find on the table during Passover," Zabar said of his creation, which is pretty much a whiskey sour with a red wine float. "Many people don't take Manischewitz too seriously, especially in the cocktail world. We saw it as a seasonal timely ingredient, and wanted to figure out how to counter its sweetness to make a well-balanced cocktail."
By playing around with the sweet Passover wine, and adding syrup made from local apples as well as walnut infused bourbon, Zabar created what he calls "Passover In A Glass," a liquid echo of the traditional charoset fruit salad that's customary on every salad plate. 
"First you get hit with the apple, then it's mellowed out by the wine, and a delicious, subtle finish with the walnut bourbon – it's an easy cocktail to make at home for your Seder guests, and we bet Elijah would like it, too," Zabar joked. 
Made with corn, rye and barley, Buffalo Trace bourbon, or really any bourbon, it's technically not kosher for passover for some, but, well, celebrate as you see fit. 
The Red Sea
Ingredients: 
2 ounce walnut infused Buffalo Trace*
1 ounce lemon 
3/4 apple syrup**
1/2 ounce Manischewitz wine 
Shake up all the ingredients with ice and serve straight up.
*To infuse the bourbon: Toast walnuts to bring out their oils. Crush them with a wooden mallet and steep the crushed nuts in Buffalo Trace for up to three days to infuse it with tons of nutty flavor. 
**Simple syrup also works you you can make Oliver's homemade version: Put 3 cups of apples peeled, cored and chopped, 8 ounces of white sugar and two tablespoons of water in a pot over medium heat, stirring until sugar and water mix and the juice from the apples begins to be extracted. After ten minutes put on low heat until you have a syrupy consistency. Strain mixture through a chinois. Save syrup. Eat the warm sugary apple chunks.
L'chaim!