The Trump University case may not be over just yet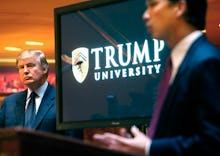 United States District Court Judge Gonzalo Curiel is expected to hear an objection to the Trump University settlement on Thursday that could mean the legal battle will continue well into the Trump presidency.
The former students of now President Donald Trump's online real estate seminar sued Trump for allegedly defrauding them with overpriced degrees from a non-accredited institution. Trump, who has famously claimed that he never settles legal cases, settled the dispute for $25 million after winning the presidential election in November. Now a judge is set to approve that settlement, ensuring that the former students will receive a refund.
But Sherri Simpson, a resident of Fort Lauderdale, Florida and former Trump University student, filed an objection to a provision in the settlement that bars her and other former students from declining the settlement and suing Trump separately. 
If Curiel grants Simpson's objection, it could mean that Trump will continue to face legal challenges about the university throughout his presidency.
"What Ms. Simpson seeks is her day in court," her lawyer attested in papers filed with the court.
Curiel was the subject of racially charged attacks from Trump during the campaign claiming the judge could not be impartial in Trump's because of his Mexican heritage.
More than 3,700 plaintiffs in the case are currently set to receive around 80% of their initial investment in the courses. When the settlement was first announced it was estimated that plaintiffs would receive about 50% of their investment based on the assumption that all eligible students would file claims.
Simpson's lawyer said she would appeal if the judge does not grant her objection.