'Gay Star News' tweets and deletes meme comparing Nicki Minaj to a monkey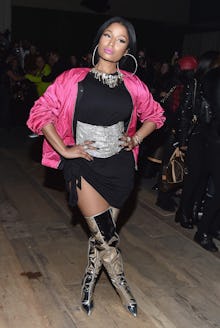 This is one Throwback Thursday that you can't take back. 
Early on Thursday morning, LGBTQ news outlet Gay Star News tweeted out a #ThrowbackThursday meme featuring pop divas as young kids. The meme included an image of a young monkey rapped in a diaper labelled as rap superstar Nicki Minaj. 
Though the meme was deleted, screenshots of the tweet lived on. 
After deleting the meme, Gay Star News tweeted out an apology from their main account. 
"We apologize an offensive meme was posted on our Twitter feed," the apology reads. "We didn't look closely at all the images in it and it won't happen again."
If the apology is true, that means that whoever posted it could not tell the difference between a picture of a baby monkey and a young Nicki Minaj. 
Aside from the picture of Nicki Minaj, the meme also includes a representation of Madonna's baby picture as a cave painting. The legendary singer was born in 1958. 
In a statement to Mic, Gay Star News editor-in-chief Tris Reid-Smith called the meme "totally vile" and said that both Reid-Smith and the person who made the mistake are "mortified." 
"I would like to repeat that we are desperately sorry," Reid-Smith said. "This was purely because we didn't spot it. This has never happened before and will not happen again."
People were not on board with News's Twitter apology, saying it was "not even close to good enough," "tacky," and a "shit apology." 
The meme raises a lot more questions about racism in gay media, a longstanding conversation that was reinvigorated in March 2016 when rapper Mykki Blanco issued a series of tweets calling out gay media for not featuring more men of color, including Blanco, in the pages of their magazines. Fusion later found that gay media preferred straight, white cisgender men to queer men of color on their covers, as well. 
The anti-Minaj meme comes on the heels of a week in which several public black women were subject to misogynoir attacks. This week, Bill O'Reilly mocked Rep. Maxine Waters' hairdo, saying it looked like a "James Brown wig" and press secretary Sean Spicer told White House reporter April Ryan to stop shaking her head. The two back-to-back anti-black-women barbs spurred the #BlackWomenatWork hashtag. 
Minaj is also not the only black public figure to endure being compared to a monkey. As the Huffington Post points out, a long, racist history exists of comparing black people to monkeys. Several racists have compared the Obama to monkeys, Michelle Obama to an "ape in heels," and comedian Leslie Jones was the subject of alt-right Twitter onslaught that included people comparing her to a gorilla. Minaj herself has endured these misogynoir attacks before. 
Mar. 30, 2017, 12:34 p.m.: This story has been updated.