Lana Del Rey 'Lust for Life' Release Date: Everything we know about her new album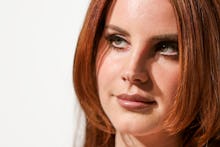 Lana Del Rey is returning to music with hope in these "dark times," her conviction on our present society, in a new promo video for her forthcoming album Lust for Life. Her next project will follow up 2015's Honeymoon, an album exploring her torments with toxic relationships. But so far it seems Del Rey is going beyond her personal troubles and prepping her own conscious take on the current state of affairs on a more macro level. There is no official release date, but the singer-songwriter says the new opus is "coming soon." Here is everything we know about Del Rey's next album.
Background
Del Rey began rolling out new material in February, when she released her latest music video "Love." On the track, she sings with haunting vocals about those young and lost in romance, and untouched by the cares of this world. But Del Rey herself has not had the pleasure of aloofness without burden, as is revealed in her new, eerie, black and white visual that is a cross between fantasy and reality. In it, she gave us a preview of her current stream of consciousness in regards to what birthed her Lust for Life. 
"When I'm in the middle of making a record, especially now when the world is in the middle of such a tumultuous period, I find I really need to take the space from myself far away from real life to consider what my contribution to the world should be in these dark times," she said.
Later in the video, her existential thoughts begin to lean toward optimism. "So even though these times can feel a little bit crazy, they're not so very different from what other generations have experienced at one time or another before."
Del Rey also posted to her Instagram an excerpt of quotes from a rare Bob Dylan interview in which the legendary musician iterated a similar theme. 
In February, Del Rey also made her political stance known following President Donald Trump's transition into power. Del Rey posted a tweet supporting a cause for witches to cast a spell to stop the president from causing any harm to people.
It is a safe to bet that Lust for Life will either deal with current events head-on, or serve to provide escapism in a manner similar to the singer's optimistic leanings and the made-up world portrayed in her latest video.
Mic has ongoing coverage of Lana Del Rey. Please follow our main Lana Del Rey hub here.