'Destiny' "Age of Triumph" Ornaments: How to get new weapon ornaments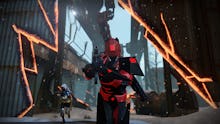 Originally introduced in "Rise of Iron," weapon ornaments are a way to give specific Destiny weapons newer, crazier appearances. Yes, the new "Age of Triumph" event has introduced even more ornaments for exotic weapons. Here's what you need to know.
How to get new ornaments in "Age of Triumph"
In "Age of Triumph," you can get three Treasure of Ages loot boxes per week from completing tasks in weekly playlists. They'll contain rare items from previous live events as well as new items. Sure, you can buy some of these items for real money at the Eververse vendor, but that's no fun.
Arekkz Gaming has a video showing the possible contents of a Treasure of Ages box, with ornaments starting around three minutes and 45 seconds into the video.
As you can see, there are ornaments for weapons like Necrochasm and Vex Mythoclast. Unfortunately, the video doesn't show what the ornaments actually do to the weapons. Still, this is yet another thing to work towards (or just buy) before Destiny is phased out in favor of its sequel later this year.
More gaming news and updates
Check out the latest from Mic, including our deep dive into how female Overwatch players are dealing with online harassment, an article about a fan movement advocating for more same-sex romance options in Mass Effect, a cool making-of video for Legend of Zelda: Breath of the Wild and an article about what a Bechdel test for gaming might look like.