'Prison Break' season 5, episode 1 synopsis released ahead of 'Resurrection' premiere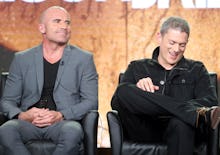 The Prison Break revival is about to start, and we've got the plot for episode one right here. 
Prison Break returns on Tuesday, April 4 at 9 p.m. Eastern on Fox for a limited event season. Wentworth Miller and Dominic Purcell return as our beloved Michael and Lincoln. 
Spoiler TV has the official synopsis for the first episode of the event season, and it looks like we're getting right back into things: 
It's been seven years since Michael Scofield was presumed dead, but when clues suggest that he might still be alive, Lincoln Burrows reunites with Sara Tancredi (Sarah Wayne Callies) to help track down the truth. The path leads Lincoln to Yemen, as Sucre (Amaury Nolasco), T-Bag (Robert Knepper) and C-Note (Rockmond Dunbar) are pulled back into the action to engineer the series' biggest escape ever.
Alongside Miller, Purcell, Callies, Nolasco, Knepper and Dunbar, Paul Adelstein, Augustus Prew, Rick Yune and Inbar Lavi will also be part of the show's big return. 
Prison Break ended its original run in 2009 after just four seasons. In a 90-minute TV movie, Prison Break: The Final Break, the show wrapped things up with Michael and Sara tying the knot. It explained what happened before Michael died and before Sara was put in jail for murdering Christina Scofield, Michael and Lincoln's mother. The whole squad came together to help Sara escape. 
Although Michael was killed, the show's producers say there will be a logical explanation as to how he's back from the grave. 
Prison Break returns to Fox on Tuesday, April 4 at 9 p.m. Eastern. 
Mic has ongoing TV coverage. Please follow our main TV hub here.