3 key takeaways from the Senate Intelligence Committee hearing on Russia and Trump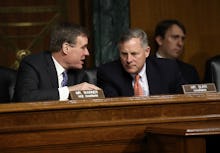 WASHINGTON, D.C. — With the House Intelligence Committee embroiled in controversy, U.S. senators probed the technical details of how Russian hackers influenced the 2016 election. Largely free of the partisan sniping that plagued its House counterpart, Thursday's Senate Intelligence Committee hearing underscored a years-long Russian effort to hone an ability to influence democracies. 
Republicans questioned three experts on Russia about the long-term implications of hacking, while Democrats said the committee must "follow the money" in its inquiry into President Donald Trump and Russia. One witness openly criticized the falsehoods Trump has shared on social media, some of which amplified dishonest narratives originating from Russian propaganda. The committee's Republican and Democratic leaders insist their investigation will be the one to watch: that of a fair, bipartisan group searching for the truth.  
Here are three takeaways from the committee's first public hearing on Russia since Trump's inauguration in January. 
Republicans are focused on the scale and skill of Russian hacking
The three witnesses before the committee stressed the highly coordinated and long-planned manipulation of news, social media and online information distribution by the Russians. Clint Watts, a senior fellow at the Center for Cyber and Homeland Security at George Washington University, told senators Russians have possessed the ability to hack servers and manipulate online news since 2014.
"The Russians could not do [interfere in the American election] if they started in 2016," Watts said of Russian meddling in the election. 
The witnesses detailed exactly how the Russian government and its associates influenced the election. First, Russian-backed news outlets like Russia Today and Sputnik would publish a false story. Then, social media accounts — some automated — would share the story thousands of times within hours of its publication, launching the false narrative into the top trending news on platforms such as Twitter. That elevation would prompt attention from the mainstream media, further elevating the fake story. 
False stories were often shared by accounts that would feel familiar to the people most likely to follow that account. A Twitter user in Wisconsin, for example, would be targeted by a different automated Russian social media account than a Twitter user in Florida might. "You see somebody and they look exactly like you, even down to the pictures," Eugene Rumer, director of the Russia and Eurasia program at the Carnegie Endowment for International Peace, said.
Sen. Marco Rubio (R-Fla.) was one of the presidential candidates hurt by the Russian misinformation efforts, Watts said. Rubio said the U.S. was the victim of "a highly coordinated misinformation campaign involving dozens of fake accounts that posted fake stories for hours." The goal was simple: "To pit Americans against one another," the senator said. "Aren't we in the midst of a blitzkrieg of misinformation ... to sow discord amongst Americans?"
Democrats want to "follow the money"
Multiple Democratic senators encouraged their colleagues to dig into the wealth of Russian oligarchs tied to Vladimir Putin. Sen. Ron Wyden (D-Ore.) cautioned that because Trump and his associates have had business connections with Russia in the past, the committee needed to "follow the money" to facts. 
"Russia's corruption problem may also be our corruption problem," Wyden said. Sen. Mark Warner, the ranking Democrat on the committee, also asked the witnesses about oligarchs, wondering if there were any wealthy Russians who were not tied to the government. 
Sen. Martin Heinrich (D-N.M.) echoed Wyden's call to rule out financial connections between the U.S. and Russia. "I'm curious if you see money in politics as an opening for Russia to potentially manipulate our elections?" Heinrich asked. 
Watts cautioned that the Russians could fund a "Manchurian candidate" in the way Heinrich suggested, but he said blackmail was a larger worry. "It's not just promotion, it can also be used as a weapon," he said.
Separating fact from fiction on social media is tough — especially with Trump as president
Testifying in front of the Senate committee was a potentially life-threatening move, Watts said. He expects to be cyberattacked, "discredited by trolls" and perhaps put on a Putin hit list. But none of those are Watts' principal worry. 
"My biggest concern is I don't know what America's stance is on Russia and who's gonna take care of me," Watts told the committee. The Russia analyst was the most outspoken in his criticism of the president's sharing of information, often on Twitter, that was fake and first spread by Russian propaganda. 
"What's hard to distinguish sometimes is: Did Russia put it out first, or did Trump say it and the Russians amplified it?" Watts told reporters after the hearing. 
Other witnesses said another impediment to recognizing influence through online falsehoods is an American belief that our elections could not be influenced like those in other countries. Before 2016, Rumer said he did not think any foreign government would try to influence election processes in 50 states. But "you realize that, a more sophisticated actor, with ... years and decades of experience playing in this field, can actually aspire to make a meaningful difference," Rumer said.
This isn't over. The precise impact of Russian efforts to elect Trump is not and may never be fully known. But the consensus of all the American intelligence agencies is that the Russians worked to elect Trump.
The Russians have moved on to Europe, the witnesses said, where they are actively influencing elections in Germany and France, as well as recently influencing the now-concluded election in the Netherlands. In recent years, Russia has also been active in elections in Ukraine, Georgia and countries on the Baltic Sea.
"The United States of America should, like we do on terrorism, work with any country in the world that might be an aggressor of Vladimir Putin," Richard Burr, the Republican committee chairman, said at the hearing's conclusion.