"F*ck you terrorist" spray-painted on Iranian refugee's home. Now, he's leaving the US.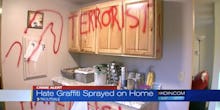 Hasel Afshar, 33, isn't Muslim. He's Baha'i, but that didn't matter to the people that vandalized his home this week. 
After taking a three-day vacation, Afshar — an Iranian refugee — returned to his home in Troutdale, Oregon, to find it vandalized with racist epithets and bullets in the shape of a cross. "Terrorist," "Muslim" and "Get out of America" were spray painted in red all over the walls in his home.  A threatening letter also accompanied the graffiti.
"If I see you here next month, I will shoot you and burn your house," the note read, according to Outlook, a local newspaper in Oregon. 
In 2010, Afshar fled religious persecution in Iran. But after living in the U.S. for about seven years, he's once again enduring religious and racial persecution.
"I'm not going to be a hero and stay here and fight about it," Afshar told Outlook. "I'm not going to sit here and wait for someone to shoot me."
After repairing the damage, Afshar plans to sell his home and leave the U.S. He also said he doesn't care if he loses money on the sale.
"I can sit here and cry and nothing [is] going to be fixed," Afshar told the Outlook. "I have to be strong and just repair my house again."
This isn't the first time Afshar has experienced such violence. Shortly after immigrating to the United States, Afshar said he was punched in the face. He claims that the incident, which took place in California, was racially motivated. According to the Root, Afshar was verbally attacked outside of a convenience store on March 7.
"Get the fuck out of America!," a man in white van shouted. "We don't want you here." Afshar now is wondering if the man followed him home. 
The Root reports that the Multnomah County Sheriff's Office is investigating the case as a bias-motivated crime.
"He is of Middle Eastern descent and that's kind of the tie-in here, that's why we're doing it or why we're concerned about it," Gaidos told the Outlook.
The Council of American-Islamic Relations is calling on the FBI to probe the incident as a hate crime.
"The FBI should join in the investigation of this apparent hate crime in order to demonstrate that the rights and safety of American Muslims, and those perceived to be Muslim, will be protected," Ibrahim Hooper, CAIR spokesman, said in a statement.