Meet the woman trying to turn headwraps into a must-have accessory for women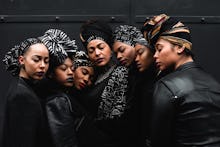 When you ask Paola Mathé, who launched the headwrap company Fanm Djanm in 2014, who'd be her dream person to wear one of her headwraps, she pauses. 
"If we can include someone who isn't alive, if I had Nina Simone wear my headwrap, I would roll around and lose my voice," Mathé said in an interview with Mic. "I love women. I love strong women. I love women who have something to say. I love their voices." 
That's exactly what Fanm Djanm, which means "strong woman" in Haitian Creole, is really all about, with an unflinching attention to celebrating women who use their voice and are unapologetically unafraid of standing out.
On the Fanm Djanm website, the headwraps are bright and patterned, geometric and sometimes floral too. There are also stories written by women — which tackle things like what it means to be Haitian — and a profile of a woman who's a lawyer by day and an artist by night. 
It's taken a while for Mathé to get to this point, with customers now as far away as Japan and Russia and Australia. 
Before she started the brand, Mathé, now 30, would walk around her Harlem neighborhood, with her hair piled high and tucked under a headwrap, turning heads. People would stop her, take one look at the pretty fabric she had wrapped around her head, and ask her where to get one just like hers. 
But when she responded, "I just found a piece of fabric," according to Mathé, they were dumfounded. Find fabric perfect for a headwrap? Where? How? 
Realizing that there was a demand for the kind of headwraps Mathé wore herself, she decided to launch Fanm Djanm in 2014 as something that focuses not only on celebrating strong women and selling beautiful and quality headwraps to women around the world, but also on helping women realize that the headwrap can be something that's not just used to hide their hair — but a coveted accessory, like a purse or earrings. (As Mathé noted, black women have been covering their hair for a very, very long time, anyway.) 
"When I started [Fanm Djanm] and got women wanting to wear it, the first thing they wanted to do was run errands with it. They said things like, 'Oh, I can just wear it when I don't want to show my hair," Mathé, who runs the popular lifestyle blog Finding Paola, said. "And I said, 'Well I can just wear it out. It's something you can really dress up as. It's something you can wear and look regal." 
Mathé understands some women's reluctance to embrace the headwrap in settings as formal as work or a fancy dinner. Growing up in Haiti, she noticed headwraps were associated with women of lower classes. 
But in the nearly three years Fanm Djanm has been in business, Mathé thinks she's made an impact. When she first started her company, she'd almost never see women wearing headwraps around New York City. Now, she sees them more than ever. 
What's also helped, she said, is the increased visibility of women like Lupita Nyong'o and Alicia Keys, who have both publicly worn headwraps themselves. 
That's something Mathé wants only to add to, paying particular attention to her own images for Fanm Djanm, wanting desperately to show a diverse array of women. 
Scroll through the Fanm Djanm website or Instagram, and you'll see all kinds of women, young and old, dark-skinned and light-skinned, all of various sizes and heights, posing in headwraps. According to Mathé, she wanted to create images that she wished she saw growing up as a black girl in Haiti. 
"When I was growing up, what was considered beautiful were women of lighter complexion and looser curls," Mathé said. "Women who looked like me, even on television or on shows, they played the maid. These are things when you are growing up anywhere, you're thinking, 'Well, maybe I shouldn't try anything other than what I am being presented,' unless your parents talk some sense into you. I wanted to create images that are not just beautiful but to really show strength, too." 
Strength is, after all, embedded in the words "Fanm Djanm" so rather naturally it's become a cornerstone of Mathé's business. On videos posted on the brand's website, women don't just talk about beauty or their headwraps. They talk about strength and hard work. 
"Very rarely do you see people's hard work featured while selling that product," Mathé said. "It was important for me to let these women tell their own stories. Additionally, I love to show strength. I love to show young black girls that can do whatever they want to, but also why not wear a headwrap doing whatever you want to? There's no specific way to look to show success or happiness or joy." 
Indeed, Mathé has created some of the most stunning and diverse campaigns (or "stories," as she likes to call them) we've seen in recent memory. In addition to showing women of various different skin tones and ages, they've also worked with Mama C?x, a woman who uses a prosthetic leg.
Beyond just fantastic images and an attention to showcasing the strength in women, Mathé also wants to spread the most basic knowledge of headwraps across Harlem — and the world. How she's doing that now is by posting tutorials herself. Plus, with every headwrap, there's a card instructing the wearer on how to actually style it themselves. For more in-depth instruction, Mathé now wants to hold workshops for women who are interested in wrapping too. 
"The workshops are important because I get to meet the people who support me and they're also very curious about my wrapping tricks," Mathé said. "I just think that would be a very cool and intimate way to help these women." 
If Mathé had it her way, this knowledge would already be out there. But since it's not, she's more than happy to lead the charge.