'Get Out' director Jordan Peele in talks to direct 'Akira,' landmark Japanese anime remake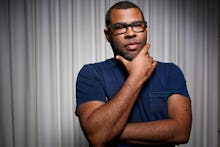 Warner Bros. is courting Jordan Peele to direct a live-action remake of Akira, the landmark 1988 Japanese film that cemented anime as a viable big screen art form, IndieWire reports.
Peele — a former comedian — became one of Hollywood's most celebrated directors in February on the strength of his debut feature Get Out, a horror film about interracial dating starring Daniel Kaluuya and Allison Williams.
Warner Bros. has been trying to remake Akira for years. The film — which is based on the equally renowned manga by Katsuhiro Otomo — is set in the future city of Neo-Tokyo, where the lives of two biker brothers are upended when they learn that one has telekinetic powers. 
Jaume Collet-Serra and Justin Lin have both been attached to direct the remake at various points, and Garrett Hedlund was once rumored to be in talks for the starring role. But production has stalled repeatedly, leaving the project's future in question.
If Warner Bros. is successful in getting Peele to sign on, he would join a growing cadre of talented young black directors who've been recruited to helm bigger-budget Hollywood projects after directing more independent fare that tackled race and blackness in the United States. 
Ryan Coogler transitioned from writing and directing Fruitvale Station in 2013 to the Rocky sequel Creed and, now, Marvel's Black Panther. Ava Duvernay is currently working on an adaptation of Madeleine L'Engle's book A Wrinkle in Time. And Moonlight director Barry Jenkins just signed on to direct an Amazon series based on Colson Whitehead's novel The Underground Railroad.
Akira would present a unique challenge for Peele, still a relative newcomer to directing. Not only would he be tasked with coordinating a massive, special effects-laden production, he'd have to navigate the ugly racial politics that have defined Hollywood remakes of Asian source material lately.
In films like Ghost in the Shell and the upcoming Netflix series Death Note, live action adaptations of Japanese anime have been cast with white leads, sparking an uproar about race and representation in the film industry. It appears that Warner Bros. was on track to make a similar mistake by featuring Garrett Hedlund as the protagonist in Akira. 
If any director seems up to the task of tackling this tricky dynamic, the studio could do far worse than Peele.