'Game of Thrones' season 7 trailer reveals the four major players in the coming war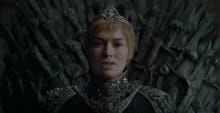 After frustrating fans with a literal melting block of ice to announce its season seven release date, Game of Thrones took a more conventional approach for its first trailer Thursday. It hones in on the four major players in Westeros: Cersei Lannister, Jon Snow, Daenerys Targaryen and the deadly White Walkers.
We have Cersei, currently on the Iron Throne after last season's literally explosive finale. Daenerys Targaryen has her sights set on Westeros, after amassing a large army and sailing toward the continent. Meanwhile, Jon Snow has been the proclaimed King in the North, and is currently the only person in power cognizant of the looming White Walker threat about to hit the Seven Kingdoms. 
The trailer doesn't tease much in the way of new scenes or dialogue. It features little beyond these three characters strutting toward the camera — the video is titled "Long Walk" for a reason — before a zoom out through the eye of a White Walker.
Granted, Game of Thrones doesn't have to do much to build up hype, so fans on Twitter were ecstatic to see the beloved characters make their entrances. 
Game of Thrones season seven premieres July 16 on HBO. Check out the first trailer below: 
Mic has ongoing coverage of Game of Thrones. You can follow our main Game of Thrones hub here.