Report: White House officials helped give Nunes intelligence on Trump surveillance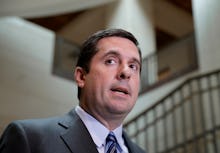 House Intelligence Committee Chairman Devin Nunes (R-Calif.) had help from two White House officials getting intelligence about the investigation into Trump according to a new New York Times report. The report appears to confirm suspicions that Nunes is running defense for members of the Trump administration — even as his committee is tasked with investigating Trump and his campaign.
On March 22, Nunes held a bizarre press conference in which he claimed intelligence sources had intercepted communications between members of the Trump transition team and implied that the collection had been improper. 
It was later revealed that Nunes had been given the information during a meeting on White House grounds, possibly indicating that the White House had been involved in giving Nunes the information.
White House press secretary Sean Spicer previously said that the idea Nunes would brief the White House on information they had helped provide to him "doesn't pass the smell test."
According to the Times report, the two White House officials who helped provide the intelligence to Nunes were Ezra Cohen-Watnick, the senior director for intelligence at the National Security Council, and Michael Ellis, a national security lawyer in the White House Counsel's Office who formerly worked for the House Intelligence Committee. 
Cohen-Watnick was recently slated to be removed from his position on the NSC after the resignation of former national security adviser Michael Flynn stepped down from his position. Cohen-Watnick maintained his position on the NSC against the wishes of current national security adviser Lt. Gen. H.R. McMaster, after White House political strategist Steve Bannon and Trump's son-in-law Jared Kushner intervened.
A spokesperson for Nunes said he would neither confirm nor deny the report.
The report comes amid growing bipartisan calls for Nunes to step down from his role leading the house investigation because of his perceived closeness to the Trump administration.
Earlier this week, Nunes cancelled a number of hearings with key witnesses who were set to testify before the committee. His decision came just after one of those witnesses, former acting Attorney General Sally Yates, notified the White House of her intent to testify.