How to pick the right VPN to protect your internet privacy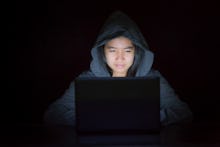 Americans are concerned about their data privacy — and rightfully so. According to the Pew Research Center, 91% of adults "agree or strongly agree that consumers have lost control of how personal information is collected and used by companies." 
After the U.S. House of Representatives voted in favor of repealing Federal Communications Commission rules that would have prevented internet service providers from selling consumer data, the concern has only grown. According to Google Trends, searches for "VPN" — virtual private network, or a tool that offers consumers heightened online privacy — spiked on Tuesday night after the vote.
So here's everything you need to know about virtual private networks — and which to consider investing in.
What is a VPN? How does a VPN work?
Virtual private networks connect you to the internet while keeping your connection with its server encrypted. This means all incoming and outgoing data is kept hidden and, in turn, obfuscates your internet activity from your ISP. While your online browsing will remain inaccessible, your location will be visible by your ISP.
What are the downsides of a VPN?
For starters, they are usually not free. And using them can also result in slower browsing. Some sites, like Netflix, don't allow VPN access, which means you won't be able to access some content.
Are all VPNs created equal?
No. Even worse, some have the same downsides as an ISP. As Wired reported, some VPN providers can also track and sell your data. So they're not all ideal for those looking to protect their privacy. And security experts believe up to 90% of VPNs are "hopelessly insecure."
How should I select a VPN?
Do your homework before committing to a VPN provider. A tell-tale sign is to check for whether the VPN keeps a logs of user activity. Wired reported that taking a peek into the Terms of Service will outline if a VPN keeps logs and if there are any scenarios in which they would provide the information. According to PCMag, the type of security protocol used is an equally important factor. PPTP, for example, is considered to be insecure while OpenVPN and L2TP/IPsec are the best choices.
Are free VPNs safe?
It's tempting to want to get a private VPN for free, but cheap out and you may risk using an untrustworthy VPN. "Free VPNs aren't inherently bad, but all services have to make money somehow," reported Wired. "A free trial is one thing, but a totally free service may not have the resources to actually offer the security features it claims." That said, Quartz pointed out that Opera's free web browser is both convenient and comes with a built-in VPN.
What are the best VPNs?
PCMag's 2017 roundup of the best VPN lists IPVanish VPN, NordVPN and KeepSolid VPN Unlimited. Meanwhile, Wired recommends F-Secure Freedome and Private Internet Access VPN — the former is lauded by independent security researchers and the latter is well-reviewed.