'Destiny 2' trailer reveals a comedic tone, release date, pre-order and beta details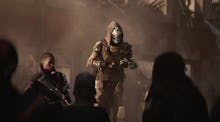 Destiny 2 is finally, officially official. For real. 
The worst-kept secret in gaming got a reveal trailer today with a release date, a new platform and a somewhat surprisingly comedic tone.
Destiny 2 official reveal trailer
The trailer doesn't reveal anything we didn't already know from previous leaks. The Tower and the city below it have been destroyed, which is rather hilariously used as a justification for none of your gear carrying over from the first game. It leans heavily into Nathan Fillion's Cayde-6 character being a goofball, likely because he's one of the only characters in Destiny with a personality. 
The first gameplay reveal is coming on May 18. Destiny 2 is coming to PS4, Xbox One and (for the first time) PC on Sept. 8. Pre-ordering the game will get you access to a beta in the summer. Unfortunately, this trailer doesn't tell us much about how the game has actually changed, but we'll find that out in May.
More gaming news and updates
Check out the latest from Mic, including our deep dive into how female Overwatch players are dealing with online harassment, an article about a fan movement advocating for more same-sex romance options in Mass Effect, a cool making-of video for Legend of Zelda: Breath of the Wild and an article about what a Bechdel test for gaming might look like.