North Carolina's HB2 bill was partially repealed — but LGTBQ people aren't celebrating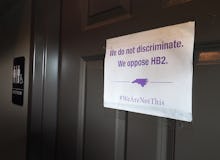 On Thursday afternoon, North Carolina's House voted to repeal HB2, the infamous bill that force state residents to use the bathroom that matched their gender assigned at birth rather than their gender identity. 
However, LGBTQ advocates are not thrilled with the details of the repeal bill.
According to Fayetteville Observer reporter Paul Woolverton, the voted passed 70-48 and will now go to governor Roy Cooper's desk. 
While it does repeal the anti-trans bill, it also bars cities in North Carolina from passing any equal rights ordinances until 2020. It also bars any cities from passing any kind of protections for transgender people at all, leaving the matter up to the state, leaving the door open for another HB2-type bill in the future.  
"The bill makes it illegal to protect people from discrimination," Chase Strangio, staff attorney at the American Civil Liberties Union's LGBT and HIV project, wrote in a blog on the ACLU website. "And worse still, it does so under a claimed interest in protecting 'bathroom safety and privacy.'" 
Strangio also took to Twitter to call the repeal a "farce" and the "same discrimination repackaged."  
"This so-called repeal of HB2 continues to situate trans people and trans bodies as threats," Strangio wrote. "Don't be caught up in the propaganda."
North Carolina lawmakers failed to repeal the bill in December, despite overwhelming dislike for the bill and awareness of its devastating economic impact. 
Several prominent LGBTQ organizations denounced the repeal in statements. 
"After more than a year of inaction, today North Carolina lawmakers doubled-down on discrimination," Human Rights Campaign president Chad Griffin said. "Each and every lawmaker who supported this bill has betrayed the LGBTQ community." 
Griffin said HRC will explore legal action to combat the repeal bill, which he called a "hateful law," as well. 
Equality North Carolina executive director Chris Sgro said the repeal bill, like HB2, was crafted without community input and "left out the ones most impacted by the discriminatory law — LGBTQ North Carolinians." 
National Center for Transgender Equality executive director Mara Keisling said the bill is based on  "vicious lie" that portrays transgender people as dangerous. 
"There are thousands of school children who have been terrorized by HB2, and thousands of parents constantly worried about the safety of their children," Keisling said. "The best thing North Carolina can do is to simply repeal HB2 outright, not this outrageously veiled attack on anti-discrimination."
HB2 became instantly controversial after its passage in March 2016, as many saw it as an attack on North Carolina's transgender population. The bill was passed in an emergency session after the city of Charlotte, North Carolina, passed an equal rights ordinance protecting LGBTQ citizens. 
The deal was reached just before NCAA was set to choose which city would host its championship basketball games. North Carolina was in danger of losing NCAA business over the bill.