Meet Mona Haydar, a Muslim poet rockin' her hijab in an empowering music video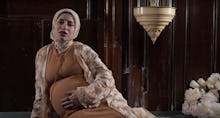 Mona Haydar is a pregnant Syrian poet and she's rockin' her hijab. 
In honor of Muslim Women's Day, Haydar released her first single and music video "Hijabi" on Monday. The video featured numerous women — from diverse ethnic backgrounds — donning hijabs and dancing to the beat of her track. 
The video provides a powerful counter-narrative to how Muslim women are perceived — often as oppressed or terror-prone — in the United States and other Western countries. Haydar's lyrics, unapologetic in their delivery, serve as an anthem of resistance for Muslim women around the world.
"Power run deep," Haydar raps. "So even if you hate it/ I still wrap my hijab/ Wrap my hijab/ Wrap my hijab."
In the music video, Haydar stares right at the camera cradling her belly as she softly raps lines about Queen Nefertiti and Mipsters, a portmanteau of "Muslim" and "hipster." But perhaps the most empowering aspect of Haydar's video is the centering of black Muslim female visibility. 
"I give full respect and reverence to who and where this art form comes from," Haydar told Mic in an email interview. "It was born of the plight of black America. It sought to create beauty from struggle — to create joy in the midst of oppression. This is resistance music."
By featuring the art and talents of black Muslim women, the Syrian poet's music video is an ode to the contributions and influences of the black Muslim community.
"I honor the greats who came before me and the ones who came before them because I know what I owe them," Haydar said. "People like Malcolm X made way for me to be free — it made way for me to be able to create this art. Where would I be as an Arab-American woman here in this country were it not for those who struggled in the way of liberation before me?"
Haydar has made several efforts in the past to shift the conversation around Islamophobia. She started the #AskAMuslim campaign in March 2016 with her husband Sebastian Robins to encourage non-Muslims to engage in discussion on terrorism, ISIS and other barbaric acts allegedly done in the name of Islam.
Like her previous campaign, the message Haydar hopes to deliver in her music video is obvious: inclusivity and love.
"My message and mission are clear with my art: inclusivity and love," Haydar said. "I hope to call attention to shifts that need to happen and challenge perceptions and ideas that don't serve us. We're working to build the more beautiful world we all know is possible — one that is full of kindness and compassion."
You can watch Haydar's music video in full below:Nov. 10, 2015, 11:32 a.m.: This story has been updated. 
March 31, 2017, 3:00 p.m.: This story has been updated.