Harvey Fierstein rewrote 'Bye Bye Birdie' so Jennifer Lopez wouldn't play a secretary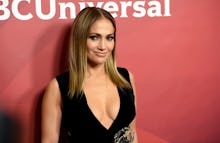 Bye Bye Birdie is saying "bye bye" to sexism. 
NBC will be updating Bye Bye Birdie for its annual live musical event, the Hollywood Reporter reports.
Harvey Fierstein told the Reporter that, rather than Lopez's character Rosie playing secretary to the main character, Albert, the two will be English teachers at the same school.  
"I want to be true to the time it takes place but at the same time, having Rosie be Albert's secretary whom he's having an affair with is a little sexist and old-fashioned. I didn't see any reason for that," Fierstein told the Reporter. 
Fierstein described the new plot, as well. 
"He's the English teacher who writes a song, and she's the music teacher who says, 'I've got a great kid with a great voice,'" he said. "He ends up being Conrad Birdie, who's supposed to only take one summer off to promote the record but turns into a star. It's been eight years and Rosie just wants to go back to their real lives. It really makes a lot more sense that way."
Fierstein has made modern updates to both The Wiz and Hairspray for previous NBC live musicals. 
"I have great respect for Michael Stewart, who wrote the original book," Fierstein said. "I spoke to his sister and made sure she knew the changes I was going to make and I would hope Michael would be happy with, had he lived into our time."
Leveling out the power differential in a Lopez vehicle is a refreshing change of pace. In the past, Lopez has played a maid who falls in love with a high-profile politician in Maid in Manhattan and a temp who falls for the son of a multi-hyphenate media mogul in Monster-in-Law. 
Reporter said Bye Bye Birdie fans should expect a few more minor tweaks, including changes to opening song, "An English Teacher" and reordered scenes, including the Ed Sullivan Show performance that traditionally closes the first act appearing at the very end. 
It was previously reported that the show will highlight Rosie and Lopez's ethnic identities as a Puerto Rican woman, as well. Not to mention Rosie's issue of being in her forties and dating a man afraid of commitment.