'MLB The Show 17' pre-order bonuses: How to redeem your codes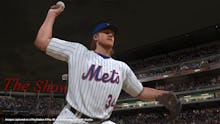 MLB The Show 17 was released on Tuesday, and after a delay, the servers appear to be up and working for most who own the game. This means fans who pre-ordered the game and those who bought one of the two special editions should be free to redeem their incentives.
These were issued in the form of a code, and there were some issues with redemption early on. GameStop, which exclusively offered the MLB The Show 2017: Hall of Fame Edition offered this bit of assistance for those experiencing issues with their codes:
If that's not your issue and you simply want to know how to redeem the code on your PlayStation 4, the MLB The Show official Twitter account posted these specific instructions:
If you're still having problems after that, you may want to seriously consider calling, messaging or emailing Sony directly.
For most people, though, the two directives above should clear up any issues.
More sports gaming news and updates
Are you a sports gamer? Check out more content from Mic, including tips for leveling up your NBA 2K17 MyPlayer, playing quarterback in Madden 17, the latest information on MLB The Show 17 and the classic Nintendo sports games we want to see on the Switch.