Is @projectexile7 James Comey's Twitter? Gizmodo may have identified the FBI director.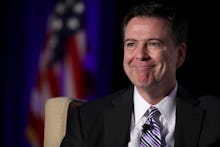 Gizmodo writer Ashley Feinberg thinks she has tracked down FBI Director James Comey's Twitter account — @projectexile7 — using a combination of Instagram sleuthing, targeted searches and the subject of the director's college thesis to identify the handle. 
Interestingly enough, despite the FBI Director's outspoken stance on privacy, the reporter claims she was able to track the unprotected account down in a manner of hours using a handful of clues Comey left in a mix of public statements and media reports. 
Feinberg's effort was inspired by recent remarks from Comey that he had an Instagram account with only nine followers, all members of his family, with the exception of one daughter's "serious boyfriend."
Using that little tidbit, Feinberg looked for members of Comey's family on Twitter. Eventually, she was able to track down an image from a Twitter account affiliated with Kenyon College, where Comey's son Brien Comey played basketball and allegedly once tweeted from the now-defunct account @twittafuzz. 
That Twitter account lead her to what appeared to be Brien Comey's Instagram, which by extension led her to a private Instagram account with ten followers, many with the last name "Comey", and which used the handle reinholdniebuhr.
Who's Reinhold Niebuhr, you ask? He's a 20th century theologian and scholar who happened to be the subject of James Comey's college thesis. Once she had what appeared to be Comey's preferred online pseudonym, it was relatively easy to track down his Twitter account as well, which only had one follower, a friend of Comey's named Benjamin Wittes, who writes for Lawfare.
Then there was the matter of the handle. Project Exile is a federal program Comey helped design; its follows and likes included many journalists who cover the FBI, as well as Comey's alma mater, the College of William and Mary. On the whole, a pretty convincing case. 
The FBI declined to comment in an email to Mic, and Benjamin Wittes didn't immediately respond to request for comment.