Two Democratic senators announce they are backing Neil Gorsuch for the Supreme Court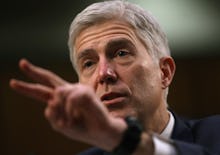 Two Democratic Senators, West Virginia Sen. Joe Manchin and North Dakota Sen. Heidi Heitkamp are going to vote in favor of Supreme Court nominee Neil Gorsuch's confirmation, casting doubt on opponents' ability to stop the confirmation. According to the Hill, Senate Republicans only need six more Democrats in order to bypass a filibuster and approve President Donald Trump's pick.
"Senators have a constitutional obligation to advice [sic] and consent on a nominee to fill this Supreme Court vacancy and, simply put, we have a responsibility to do our jobs as elected officials," said Manchin in an emailed statement to Mic. "After considering his record, watching his testimony in front of the Judiciary Committee and meeting with him twice, I will vote to confirm him to be the ninth justice on the Supreme Court." 
"He has a record as a balanced, meticulous and well respected jurist who understands the rule of law," Heitkamp said in a statement. "Regardless of which party is in the White House, the U.S. Supreme Court should be above politics." 
Both senators hail from states that heavily backed Trump, and are two of nine red-state Democrats who face re-election in 2018. 
Many Democrats are still smarting over the treatment of former Supreme Court nominee Merrick Garland, a pick from former President Barack Obama whose nomination languished as Senate Republicans refused to call a hearing. Even Heitkamp, in her statement backing Gorsuch, reiterated that she was "disturbed" by Garland's treatment.
The refusal to consider Garland has inspired many Senate Democrats to refuse to back Gorsuch on principle. Thirty-four Democrats in the Senate are opposing the nomination, including the minority leader, New York Sen. Chuck Schumer. 
Even if Democratic opponents are successful in mounting a filibuster, it still might not be enough for them to prevent Gorsuch from joining the bench. Senate Republicans have signaled that they'd be willing to change the Senate rules to force the nomination through, known as the "nuclear" option.