Former National Security Adviser Mike Flynn agrees to testify in exchange for immunity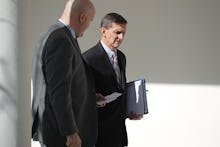 Former national security adviser Mike Flynn, who resigned in February, has told the FBI and Congressional officials that he is willing to be interviewed by investigators looking into whether President Donald Trump's campaign colluded with Russian officials, according to a Wall Street Journal report, but only if he is granted immunity from prosecution. 
Flynn was forced to resign after it came to light that he had misled officials about whether or not he had any contact with Russian officials in the aftermath of the election. According to a Washington Post report, Flynn fielded a possibly illegal phone call from Russian ambassador Sergey Kislyak about the possibility of lifting United States sanctions enacted under President Barack Obama. Flynn had previously said the calls never happened.
It's still not clear what, exactly, Flynn has offered to testify about, but the Journal reports that the fact he requested immunity indicates he thinks he is in "legal jeopardy" over something that happened during his brief tenure in the administration. 
The White House didn't immediately respond to request for comment about why Flynn fears he could face charges, but in the past, Trump has criticized staffers of former presidential nominee Hillary Clinton for requesting immunity as well. 
As some observers on Twitter pointed out, one possible explanation for Flynn's concerns has to do with the failure to disclose all of his sources of foreign income. According to the Journal, Flynn has accepted money from three Russian companies, including RT, a state-sponsored media network. 
In a statement, Flynn's attorney Robert Kelner said that "no reasonable person" would "submit to questioning in such a highly politicized, witch-hunt environment without assurances against unfair prosecution." 
March. 30, 2017, 7:41 p.m.: This story has been updated.