Kendrick Lamar surprise releases "Humble" video, and fans lose their minds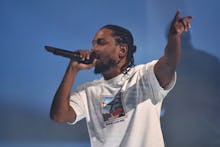 Kendrick Lamar, one of rap's reigning kings, surprise released a new video on Thursday night, titled "Humble," likely from his upcoming album. The video is currently available on YouTube and Vevo, and you should watch it. 
The provocative video is true to Lamar's political style and awash in biblical imagery. At one point Lamar and his friends recreate Leonardo da Vinci's "The Last Supper" with Lamar seeming to play Jesus. At multiple points, Lamar appears dressed as the pope. 
The apparent spirituality of "Humble" aligns with some of Lamar's previous comments about his desire to create something more ambitious than a typical rap album. In past interviews, he's said the project would be "urgent" and geared toward his community: "My focus is ultimately going back to my community and the other communities around the world where they're doing the groundwork," he told T Magazine. 
After watching the video, hip-hop and culture critic Shea Serrano called Lamar "one of the most exhilarating and ambitious and forward-thinking rappers of the last quarter century."
The rest of Twitter was less eloquent and mostly just freaked out. 
It's still unclear when, exactly, the whole album will drop. But Lamar seemed to suggest the release date would be April 7 when he rapped the lines "Y'all got 'til April the 7th to get y'all shit together" on a recent single, "The Heart Part 4."
We'll do our best, Kendrick, but no promises.