A reporter found James Comey's alleged social media account and it had the best tweet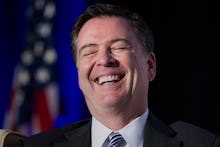 Shortly after Gizmodo reporter Ashley Feinberg's sleuthing of FBI Director James Comey's Twitter account went viral, the account in question — @projectexile7 — sent out its first tweet: an Anchorman meme with what seemed like a cryptic job offer. 
The account is now protected, but many Twitter users who had followed the account in the aftermath of the post were able to grab screenshots of the meme with a link to the FBI jobs page above it.
The FBI didn't immediately respond to a second request for comment to confirm whether or not the account belongs to Comey. 
Unfortunately, though the content certainly seems appropriate given the substance of the investigation, Feinberg seems pretty skeptical the responses are genuine. As she pointed out on Twitter, if the account had been deleted — which would make sense — anybody could have claimed them and started making the posts. 
Kudos Feinberg. If the whole journalism thing doesn't work out, it looks like you have a pretty solid fallback.