Beyoncé may join the new 'Lion King' remake, according to a 'Variety' report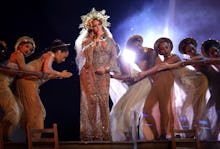 We have known for some time that Disney's classic The Lion King would be getting the remake treatment, but now it's become clear the movie's producers aren't messing around: According to Variety, they want Beyoncé to play Nala, and they're willing to do anything to get her. 
Of course, there's the matter of Beyoncé's pregnancy to consider — the singer recently dropped out of her expected Coachella appearance on doctor's orders — but since it's an animated movie, the producers think they can work around it. Sources told Variety that the studio was willing to do "whatever it takes" to accommodate the Grammy winner's schedule. 
Here is hoping the producers find a way to hammer out the logistics — the prospect of hearing Beyoncé sing "Circle of Life" has already got the internet pretty worked up, and it does not seem like it will be particularly forgiving if things fall through at the last minute.
The film is reportedly being fast-tracked and will look something like director Jon Favreau's previous remake of the Jungle Book. In addition to courting Beyoncé, producers have locked in Donald Glover to pay Simba and iconic baritone James Earl Jones to reprise his role as Mustafa. 
That's a pretty impressive line-up already, although it's safe to say Beyoncé will take up a fair bit of the spotlight. The singer has only appeared in a handful of movies, despite her stratospheric fame. Most recently, she voiced a character in the animated film Epic. 
Epic indeed.